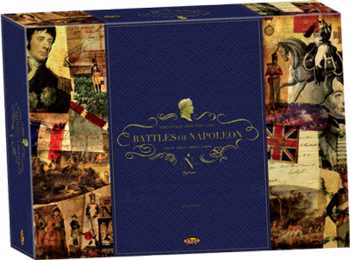 It seems that 2010 is the year of the war game system. Last week we reported that G.R.R. Martin's fantasy novel series A Song of Ice and Fire received its own starting war game system with Battles of Westeros. Now, just a few days later, fans of history are treated with a swank new Napoleonic Wars system.
Battles of The Eagle and the Lion [Amazon, Funagain] is the first base set it what will probably be a long running franchise. It features 10 scenarios from the era and focuses on the English vs French conflicts. Other smaller factions play smaller supporting roles in this first set, including troops from the Kingdom of Hanover and Portugal. Future full-featured armies will follow in new expansion sets, so we shouldn't have to wait too long for the Prussians, Austrians and of course the Russians enter the mix.
Overall the system has been received extremely well. Case and point: this User Review on BGG. Sporting high-levels of production, clear and interesting rules, and a gaming system designed to be expanded upon, Battles of Napoleon could be one of the best wargames to pickup this year.
For more information please see our previous news stories related to the system:
And, of course, here's the company line: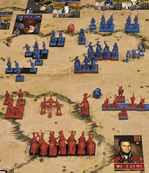 ---

For twenty years, from 1796 until the final defeat at Waterloo in 1815, Napoleon Bonaparte and his generals fought on the battlefields of all Europe. Battles of Napoleon is a gaming system that allows two players to recreate the most important historical battles the era. The Eagle and the Lion, the first game in the Battles of Napoleon series, gives you all you need to recreate many of the major clashes that saw the French and English armies -- sworn enemies -- face each other on the battlefields of Belgium, Spain and Italy. No less than 10 battles are featured, each of them based on a major historical event. In Battles of Napoleon -- The Eagle and the Lion, the two players control the French and English armies (sometimes supported by allies of other nationalities) in a specific battle. Planned as the first in a series of products that combine principles and mechanics from board and miniature games, each subsequent release will be standalone two-player games that can also be combined with others for larger battles.

---
Battles of Napoleon: The Eagle and the Lion is now shipping from Amazon and Funagain Games.
Critical Gamers Staff at
Permalink