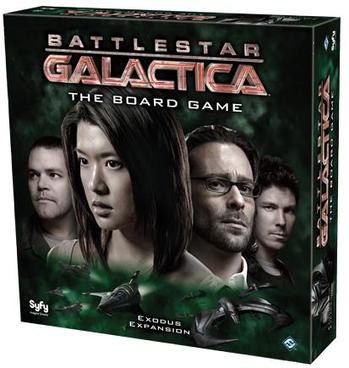 We've been drooling over facets of the upcoming Battlestar Galactica board game expansion "Exodus" for the past few months. Specifically we're looking forward to the optional overhaul to the ship combat system. New Viper types, new Cylon launch rules, and a Cylon armada that continues to build even after the Galactica hits warps speed. Any ship you leave behind will amass on a separate Cylon fleet board, only to resurface the next time the robotic fleet catches up with with the squishy flesh bags. Oh the humanity!
Now, veterans of Battlestar Galactica already know that it's a game that places the Humans in dire straits right off the bat, so FFG isn't just going to toss more ships at you and call it a day. Nope, they aim to give you new tools for you to fight back against the increased threat. To that end the expansion provides new viper abilities which, in part, allow you to escort Civilan ships home. There are alsao new zippier Viper VIIs (if you fix them by taking out their cyclon susceptible network computers) to mix in with your older Galactica Viper Museum Relics, new rebuildable nuclear warheads, and a new CAG officer who's seriously adept at coordinating viper patrols.
All this is just one of the expansions three optional addons. Other options include a new Final Five Cylon mechanic, which seems reasonable and more interesting that the super Cyclon boss mechanic from Pegasus, and a new Ion Nebula Human Trauma / Exploration of Ship to Find Allies But Watch Out for Landmines mechanic. This final one sounds WAY too complicated for us. The rules even suggest you don't play it until you've played with the other options numerous times. For us, that probably means never, especially considering we thought the previous Pegasus Expansionseriously screwed the pooch on the complexity level.
Checkout the full rules on the FFG website. We'll let you know when Battlestar Galactica Exodus hits shelves.
JUMP!
Critical Gamers Staff
Permalink