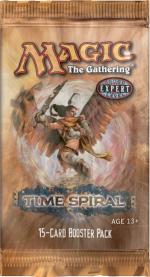 The Time Spiral pre-release weekend has come and gone, and Wizards of the Coast no longer has any reason to keep hush-hush over Time Spiral's inner workings.
Curious players can nwo sift through the alphabetical listing of all Time Spiral's 407 cards (yes 407) in the Time Spiral Sortable Spoiler. Those of you who hate spreadsheets can use Gatherer, the online searchable Magic the Gathering card database, to filter through card names, colors, etc.
Note that there are essentially two different sets of cards in the initial release of the Time Spiral Block. The "Time Spiral" set contains 281 new cards that introduce three new keywords (below) and borrow select keywords from past MTG blocks. Then there are the 121 "Time Shifted" cards, which are throwbacks to classic cards of old. The Time Shift cards have a new purple rarity symbol, evens the playing field across all these cards despite their past rarity levels. The purple cards will appear one per pack. Confused? Lead Designer Mark Rosewater explains the nitty gritty in his article for the week "Purple Reign".
So what are the new Time Spiral rule mechanics? Well, the major thing that we're excited about is seeing all of the old mechanics compliment each other in new ways. On top of that there's three new temporal rules that we all get to poke with a stick:
Suspend "Suspend N--[cost]" means "If you could play this card from your hand, you may pay [cost] and remove it from the game with N time counters on it. At the beginning of your upkeep, if this card is suspended, remove a time counter from it. When the last time counter is removed from this card, if it's removed from the game, play it without paying its mana cost. ...If it's a a creature, it gains haste until you lose control of it."

Flash
You may play this card any time you could play an instant.

Split Second
As long as this spell is on the stack, players can't play other spells or abilities that aren't mana abilities.
You can find more official definitions of these rules in the Time Spiral Rules Primer.
Time Spiral goes on sale worldwide next Friday, October 6th.
Critical Gamers Staff
Permalink