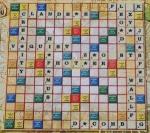 Back in March we previewed "Wildwords", a standalone board game which turns Scrabble's gameplay on its head. The title's main focus is the addition of wild tiles and wildcard board spaces which give a strong creative boost to the somewhat formulaic side of Scrabble. We saw some great things in Wildwords so we invited designer Peter Roizen to a 'virtual sitdown' of 10 questions about his game.
What better way to learn about a title than from the designer's mouth? Exactly.
Critical Gamers: You seem to be a man of crafty words. Would you summarize how Wildwords improves upon Scrabble's gameplay in 10 words or less?
Peter Roizen: WildWords adds more words, choices, strategy, gamesmanship, tension, and fun.

Critical Gamers: The game's asterisk tiles have an obvious impact on a player's ability to play unique words, but the wildcards also introduce a bluff word-challenge gameplay mechanic with point penalty and rewards. Could you briefly describe the system, and how the system improves upon the gameplay?
Peter Roizen: With a wild tile capable of representing a letter or a sequence of letters, it can be difficult to spot whether your opponent has played a legitimate word or not. Players don't divulge their words unless they are challenged. And a false challenge is penalized, so players don't challenge haphazardly. You have to consider not just the play, but the current score, the value of the play, and the opportunities in opens for your own next play.

My brother once played "QUA*IST" which I challenged. I thought he was pulling my leg with "QUASIPHYSICIST" or a similar construction. It was a brilliant play--"QUARTERFINALIST." Not every play will be that obscure, but you are forced to deal with some uncertainty and anxiety in every game. It creates the sort of tension you find in poker. The asterisks are like cards in the hole. And, you don't have to show them if you are not called.

If you discuss a game after it is over, you will often find the thinking or words behind various plays was not what you thought. For example, a stronger player may find a word for a weaker player's bluff and thus not launch a challenge which would have been successful.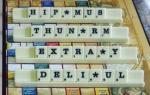 Critical Gamers: Where did your idea for Wildwords come from? (Was it a gradual evolution from years of Scrabble play, or did you sit down to the design Wildwords from scratch?)
Peter Roizen: I come from a competitive extended family that hosts a family championship every year. Scrabble was the natural choice for the game to play. Anyone can learn it quickly.

One year, some of the participants prepared for the championship by memorizing the odd short words in the Official Scrabble Dictionary. I am not into memorizing lists and do not see it as a useful brain excercise. Needless to say, the memorizers had an overwhelming advantage against the non-memorizers and finished highest in the rankings.

I finished poorly for the first time and felt the Scrabble gameplay that year was no measure of a real vocabulary or clever strategy. The games even seemed somewhat dull. I set out to change the game to eliminate the usefulness of memorization and add excitement.

Critical Gamers: Does Wildwords level the playing field between Scrabble's Experts and its casual players?
Peter Roizen: Most definitely. I went to a Scrabble club some months ago and played two top Scrabble players in WildWords. These guys would have killed me in Scrabble, but I won both games by over 200 points. Mind you, playing WildWords well takes a decent vocabulary and game experience.

Scrabble skills can sometimes be a handicap. A Scrabble player with a J will be looking to place it effectively in conjunction with bonus squares as a part of a short word. Maybe "JO" which is in the OSD. A WildWords player will also be considering placing it upside down on a Turn-To-Wild square, so as to make a seven tile bonus play of a word no "J" in it. As for a play with a "J" in it, I have played "JUXTAPOSITIONAL" and "JURISPRUDENCE" once each. Scrabble players are not used to thinking about those sorts of words.

Critical Gamers: What's the optimal number of players for a match?
Peter Roizen: As in Scrabble, there are defensive and offensive considerations. You cannot take complete responsibility for the outcome if the competition is not one on one. Serious, competitive WildWords, like Scrabble, would have to played with just two players at a time.

That doesn't eliminate the fun of playing with three or four players. With four players, you could play two teams of two to have a sound competitive format that isn't subject to one person intentionally or unintentionally throwing the game to another player.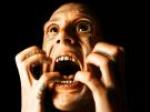 Critical Gamers: We noticed that you removed a few of the more numerous letters from Scrabble in order to make room for the wildcard tiles. How did you determine the right balance for the new letter distribution?
Peter Roizen: The distribution of tiles in WildWords is actually based on the frequency of the letters used in words acccording to the Oxford English Dictionary. I believe the distribution in Scrabble was based on the distribution of letters in a typesetters kit. Because of the wild tiles and Turn-To-Wild squares, the distribution is a less important factor than it is in Scrabble. You can actually play WildWords quite reasonably in a number of Roman languages.

Critical Gamers: Does it insult you when we repeatedly compare Wildwords to Scrabble?
Peter Roizen: No more than GM would feel insulted by taking the idea of four wheels and a motor from Ford. I borrowed the basic Scrabble format and scoring system which I think is great. I changed the tiles, the board, and the rules to open up gameplay to your full vocabulary, and other skills and pleasures.

Critical Gamers: Do you have any other games in the works?
Peter Roizen: None. I never set out to invent a game or enter the game business. If I had, my game probably would have felt contrived, even crummy. I invented the game for my own purposes. Friends and family that played it on prototypes simply felt it was too good to keep to ourselves, so I published it.

Critical Gamers: Where can someone get their hands on a copy of Wildwords?
Peter Roizen: It's almost impossible to find in a store. I don't have a major distributor. The best source is my web site. There are some good discounts for two or three copies that still leave me with enough to produce more games. I think it makes a good gift.

Critical Gamers: Is there anything else you'd like to tell our readers?
Peter Roizen: I have probably played WildWords over 500 times at this point. The game has turned out to be much better than I could have anticipated. There is always something to think about. There is something to learn every time you play it. My dream is to one day watch two brilliant players duke it out for a world title. Even as a spectator, trying to guess the words or what might be a bluff is amusing.

Critical Gamers: Thank you Peter for taking the time to sit down with us.
"Wildwords" is available for purchase at the game's official website. There is also a downloadable version for those who want to play on a computermatrix over the etherweb with their friends.
Critical Gamers Staff
Permalink