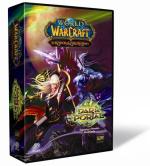 Finally the concealing smock has been lifted from the World of Warcraft TCG: Through the Dark Portal expansion display table, and the juicy details from WoW TCG official website have started to flow. It's been quite a long time coming, as the expansion has been not only highly anticipated, but the internals have been a closely guarded secret. Only now, months after the original Heroes of Azeroth release, can we finally focus our keen eyes on the new series of cards marching their way toward release this April.
The thing that has us a bit disheartened, though, is that this initial series of previews (links below) don't introduce any new gaming elements that significantly change the way we play the game. Instead it seems like the expansion provides more content based on the same systems from the initial release. In comparison, the Magic: The Gathering preview articles have always started-off with the introduction of 3-4 new keywords that seriously switch-up existing elements of the game. But with this round of WoW TCG class preview cards, we see a bit more of the gameplay elemets as before. Perhaps Upper Deck is trying to 'take it slow' as to not alienate those players who are just starting out in the world of TCGs? Or maybe their holding onto their new ideas until after this weekend's Sneak Preview Event. Either way we wouldn't mind seeing the game kicked up a notch, if not only a small one.


Continue reading:
"World of Warcraft TCG: Through the Dark Portal"
Critical Gamers Staff
Permalink