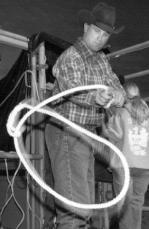 There were gobs of announcements this month but few releases, so we had the time to focus our heads to the table to review a select list of games for May. This month we should have a 4-5 reviews including Sen So, and a few WoW TCG products including the killer Servants of the Betrayer expansion release. We even put the litmus test to a children's game that marries Candy Land with the fun! exploration of the finer points of Lawsuits. No, we're not joking.
Looking forward the future months: we're pretty darn excited about the 4th Edition of Dungeons and Dragons that's schedule to ship in early June. Some preview articles were released this month that paint a pretty picture of a refined set of roles for characters, their abilities, and combat structure, how could we not be salivating and chomping at the bit for a few more details from Wizards of the Coast? We'll keep you posted of the finer points near the end of May during the two weeks running up to release.
Have a good month folks!
What We're Playing:
Board Games
Card Games
Cheap Deals & Sales
Collectable Card Games
Gaming Culture
Gaming News
Our Game Reviews
RPGs
Variants
Critical Gamers Staff
Permalink