Advertising
We are a fast-growing and influential group of web magazines, published by Blogpire Productions.
Readership
For more information on our readership, contact .
Units
In addition to standard advertising units, we are open to discussions on other sponsored site packages, ranging from exclusive sponsorships to custom built blogs. Email to to discuss.
Ad Positions
We offer many ad types - Banners, Buttons, Skyscrapers, and Leaderboards.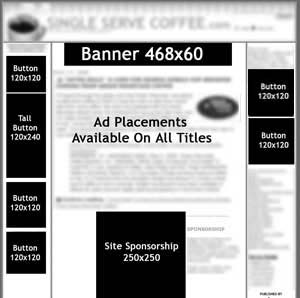 Graphic Ads
We have a variety of sizes available (if you don't see a size you want please let us know):
Discounts & Ad Approvals
We can offer significant discounts for first time advertisers, as well as advertisers with multiple bookings. We accept static and animated gif and jpg ads, as well as Flash, with approved creative. Creative must be pre-approved by blogpire.com. Email to if you are interested.
Payment For Graphic Ads:
Our minimum purchase of $250 is payable via Paypal prior to running your advertisement, although payment by check can be arranged if necessary. Contact to arrange.
Blogpire Productions
Permalink