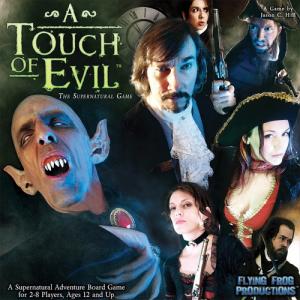 The folks over at Flying Frog Productions rocked our world last year with the incredible Zombie board game Last Night on Earth, and now they've come back with another monster braining goodness. This time it's A Touch of Evil [Amazon, Funagain] gracing our Halloween playing tables. IT includes a new series of evil archetypes that hit the dark streets of Shadowbrook, 'causing mayhem and giving the town a bad AAA rating. It's not just about lopping off the heads of zombies anymore, with the major cast of villains including Vampires, Werewolves, and maybe a headless horseman or two for good measure.
As with the previous Last Night on Earth, players will take control of a characters pulled from a B-Horror Movie. Each sports their own special powers and abilities. The characters either play cooperatively to take down a boss villain and his minions, or play against one other to the the first hero to take down a specific villain. Meanwhile other players pull the strings of the bad guys, ensuring that darkness enshrouds the village and everyone inside becomes food for your pets.
And, once again, actors were hired to pose in costume bring some humanity to the gaming materials. And it's executing in a brilliant tongue in cheek fashion.
Here are the official details.
---

Tis the dawn of the 19th century; an age of science, superstition, and witchcraft. Howling fills the night as a full moon rises over the small, secluded village of Shadowbrook. Gruesome murders have become a daily occurrence and terror haunts the streets at night. An evil creature has taken up residence here and the countryside is engulfed by a tide of darkness. But all is not lost...not yet. A small group of heroic individuals, with the courage and strength to fight, have arrived in town. Some just passing through while others have come with a purpose; but all will be put to the test as they race to save this cursed town from falling into darkness. It will take a cunning mind and strength of spirit to determine who is friend and who is foe... to solve the mysteries and hunt the beast to its lair. But the secrets of Shadowbrook run deep. Gossip and rumors run rampant and these few Heroes may soon discover that they are outsiders here and this town is already so rotten from within there is little left to save.

In this fast-paced game of fiendish creatures, dashing Heroes, and high-adventure, each player takes on the role of a unique monster-hunting Hero, racing against time to stop the forces of darkness from claiming another foothold in the world of man. Players can race competitively to be the first to defeat the Villain and save the town, or work together cooperatively to defeat a much stronger Villain.

A Touch of Evil features a gameboard map of Shadowbrook and its surrounding countryside, eight Heroes to choose from, and four different Supernatural Villains to hunt, each with its own host of unique Minions and powers to drastically change the game.

---
Critical Gamers Staff
Permalink