The day is finally here. The second Raid Deck for the World of Warcraft Trading Card Game is shipping from stores, and you could be taking on the Molten Core [Shopzilla, Funagain] with your friends as early as this weekend. And although the Official MC Website still remains somewhat dormant, the feature articles page of the Official WoW TCG site continues to churn out articles particular to this new raid experience.
And we're finally getting some fantastic details about the mechanics of the card game as well. It seems that not all raid decks (Onxyia, Molten Core.. Black Temple?) will be the same. Most of the mechanics of the single raid boss style of the Onyxia Raid Deck are thrown out the window. Instead players of Molten Core can chose to take on an abbreviated raid experience, by downing the first boss Lucifron, three random bosses chosen from random, and then the final boss battle with the Fire Lord Ragnaros. Alternatively, those with a passion for sagas can chose to play the long-game, downing each of the raid's 10 different bosses in order.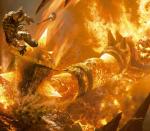 Here's a piece from the article:
"The first thing you'll notice when you crack open your shiny new Molten Core Raid Deck is that there's a ton of stuff inside. There are three different decks, ten oversize hero cards for the Bosses, a pile of two-sided ally tokens, seven rune cards, and a ten-card treasure pack." -From "Molten Core Walkthrough - Part 1"
There's more great info, too, including a catalog of the different decks and the number of cards in each. Most of the Molten Core bosses share a Main Deck and a Minion deck, but then the game switches a new deck in once Ragnoros has been summoned for your beating pleasure.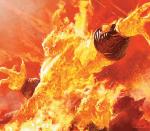 We're really glad to see that all of the ten MC raid bosses made it into this raid deck - we would have hated if they abbreviated the various characters of the Molten Core cast. Plus, it somewhat validates all of the time and energy we spent in February on our Molten Core Boss Previews [part 1, 2 & 3].
We're also quite happy to see that the game mechanics are flexible and that the experience scales so that those with light equipment can have some fun in an hour, and those to with the uber equipment can try a full clear of the raid with their heroes on a rainy afternoon. Although the various TCG heroes of our collective bunch were in top shape before Onyxia was released, we're not quite sure we're up to a full clear yet. We now have something to grow into, tune for, spend time on, and something that'll be certainly be immensely gratifying once we accomplish it as a team. And really, isn't the essence of World of Warcraft raiding right there?
After the Onyxia Raid Deck [review] we were a bit concerned with the balancing of future raid deck releases. But now we're giddy once again. Expect a full review once we've cured Ragnaros' burning itch.
Critical Gamers Staff
Permalink