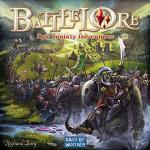 A little late, but it's finally here as promised. Days of Wonder has finally released the online scenario editor for the company's flagship strategy title of 2006: BattleLore [Amazon,Funagain]
The "BattleLore Adventures Editor" is a free web based tool access to anyone and everyone, and it has everything you need to design your own terrain layout, initial troop positions, etc. This is the same tool system that the Battlelore designers used to create the 10 base scenarios that come with the base system - and so users have the potential to create setup some pretty kill battles.
You can view all of the community scenario creations on the official Battleore Adventures Editor Webpage. Although there is one problem for the curious: users can't view the details of any scenario until they've registered a copy of BattleLore throught the Days of Wonder website.
It seems odd that Days of Wonder would have setup such a obscuring cement wall like this. It seems to us that they could have have at least provided outsiders with a more enticing tease of these scenarios. Perhaps a lowres image of the board, or some scenario flavor text from the author. The more content the better - in our humble opinions - as better glitz could act as a catalyst to have caused some customers to get off of the fence and rolling dice sooner rather than later. As it is now, this simple listing as it is now lacks oomph.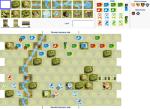 Although prospective buyers of the game can't see the battles, we can tell you that some of these scenarios are very cool. The online editor has an option to restrict the pieces to medieval battles only (eliminating the fantasy aspect of the game), and players have already begun churning out famous battles from medieval history. How cool is that? Of course this is on top of the other original user created battles which include scenarios where the players storm fortresses, rescue hostages, and other large battles from top-shelf fantasy settings like the Lord of the Rings.
Very cool stuff. Of course this is all part of the long term Battlelore plan. First step: Get a high-quality title into the hands of players and let it act cement the franchise and act as a base rule system. Then let the players create and share scenarios amongst each other, and then eventually start rolling out low-price content that expands the game with new official scenarios and plot lines.
If you already own a copy of BattleLore [Amazon,Funagain] then a visit to the scenario page is a must. Try-out any one of the highly rated scenarios to increase the longevity of war game system, at least until the new official scenario packs start shipping this spring.
Have fun!
Critical Gamers Staff
Permalink