"Medieival 2: Total War" - Released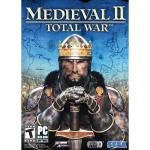 Truth be had, Medieval 2: Total War [Amazon] came-out over a week ago, but we wanted to hold off on the falling balloons and showers of confetti until we were sure this game was worth your while. And it is. It so is.
If ever you've been interested in the Medieval period of history, or if you've ever played or been interested in a game that simulates the forging of medieval kingdoms through warfare, then this is a pc game you.
Like the other games of the Total War franchise (Shogun, Medieval, and Rome) Medieval 2 is a game with two main contexts. Players of the single player campaign pick a medieval kingdom from history, and are provided a strategic map of provincial Europe 1100 AD. Here players manage the board game-like elements city production of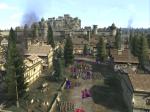 city maintenance by setting tax rates, constructing social projects, training spies, priests, merchants, and assassins, and sending them on missions into foreign territory. As your feudal nation builds momentum, armies will march from your castles to bring those 'uncivilized' fringe provinces under the fold of your kingdom. Eventually entire nations will butt heads in total war - medieval style.
That's when the game shifts context and zooms into a close view of the battleground. Here players control troop formations of spearmen, swordsmen, archers and knights in real time. Units charge into battle and engage each other in ruthless man-to-main slicing and dicing. The fights reward tactical prowess - where morale is damaged by flanking maneuvers, flaming arrows and - of course - diseased cows tossed over city walls by catapults and trebeuchets.
Plus the game looks great to boot. Click on these screenshots to the right to see a zoomed-in version.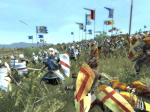 We have to warn you that this isn't your kid's real time strategy game. This game simulates the medieval times, and although it never sacrifices gameplay to be true to history's more driest moment. Still this is not a game of over-the-top bells and whistles - explosions and gratuitous gore for the sake of gore are nowhere to be found. The attraction is in the gameplay, and as board gamers we definitely admire how successfully Medieval 2: Total War brings it all together.
Medieval II: Total War is shipping now from Amazon.com.
Read More in: Gaming News
Share this Article with others:

Related Articles:
Came straight to this page? Visit Critical Gamers for all the latest news.
Posted by Critical Gamers Staff at November 28, 2006 11:15 AM