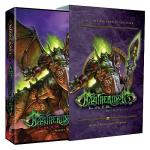 We've been hearing a lot about how Maghteridon's Lair is a push-over for players who've horded WoW TCG cards since the game's release in 2006. We've played through the raid twice now, and though Magtheridon is a heckuva jerk if he's allowed to live too long, he does seem to have some very obvious weaknesses early-on. Achilles heals even, especially if he can't attack.
Now we're generally amazed that Upper Deck didn't release a series of alternative rules to scale the difficulty of raid to match the various play levels. After all, the WoW TCG – and World of Warcraft in general – is all about mass appeal and bringing many different types of gamers together. But here we see one Raid Deck which can only be cusotomzied by buying another deck, and even then it does the same stuff it did before – just potentially better.
But what if there are some fundamental weakness to the deck itself? For instance, a group of mages could just sit back and frostbolt poor Mag every turn, until he's a block of ice with four legs. Not very scary, and Mag can't do shizzy about it even with combined decks from 2 Decks.
Below you'll find our house rules suggestions, listed in ascending difficulty. We like to play with some or all these rules, depending on how many people are raiding Mag and their deck level:
No Infinite Combos - A raid boss shouldn't die when he still has 80 life left, period.
Channeler Allies Have a Permantent Attack Value - That is, instead of reading "+X to attack while attacking" it should read "+X to attack where X is 1 plus the number of Warlocks that have left your party." Killing these guys off with allies just became a bit more difficult. Not only that, but maybe – just maybe – they'll live long enough to actually use their abilities on turn three.
Magtheridon May Not be Forced to Discard From His Hand - The poor flesh eating sap already draws one-fifth to one-half as much as the players . His hand should be sacred.
Magtheridon cannot be prevented from attacking - A lousy ice bolt shouldn't slow down a 3 story tall demonic quadruped. Players can – however -force him to tap or continue to protect against him.
Abyssal Allies have the keyword "Protector." - These guys cost two blood each and Magtheridon only gets really deadly when he's got a lot of blood. This ssmes like a pretty fair trade off.
We're also toying with a raid night where Maghteridon teams up with Onyxia against a group of 4-5 raiders for a monster battle royal. But maybe that's just crazy talk.
Critical Gamers Staff
Permalink