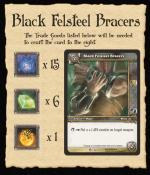 Upper Deck has lifted the lid off the new World of Warcraft item crafting side-plot to their World of Warcraft TCG with their first preview article on the subject: Crafting Redemption Preview: Black Felsteel Bracers. We have to admit, those are some pretty slick bracers right there.
The system itself is a pretty interesting concept, mirroring the tradeskill theme from the WoW MMORPG, and putting some destiny in a player's ability to direct the randomness of TCG collecting. But we can't help to feel that this also fuels the greedy collectible arms-race mechanic that already causes players to buy gobs of cards. Is this really for the player's benefit?
Here's how it works: each booster pack contains a UDE card which sports a code. The code can be entered into a website to unlock UDE points, a currency used on the Upper Deck Entertainment webstore. Points are exchanged for schwaggy goods aimed at making you feel good about playing the WoW TCG, including playmats, desktops, and items that be given to your character(s) in the computer-based World of Warcraft MMORPG. This is a system which has been in place for some time - since the launch of the game - so nothing new here for the avid WoW TCG fan.. But now the UDE cards also contain an additional symbol which matches one of twelve trade goods from the Worldcraft universe. Collect enough symbols to complete a tradeskill formula and you, too, are just one postage stamp away from crafting yourself some really nice epic cards to fill out your Heroes.


Continue reading:
"WoW TCG: UDE Point Crafting First Look"
Critical Gamers Staff
Permalink