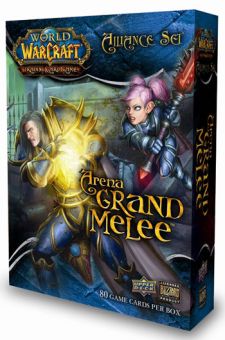 For better or worse throw away every preconception of what it means to be a World of Warcraft TCG expansion. WoW TCG Arena Grand Melee [Amazon, Funagain] is a hybrid of old and new. In one had. there's the small set of themed cards similar to Feast of Winter Veil and Darkmoon Fair set. However this time around the major theme is that of game mechanic instead of an holiday event: that of preparing your toon for battle in the World of Warcraft Arena.
Prepare Your Face
In WoW (the 'real' WoW), players entering the Arena have a few moments to cast any buff they want, for free. And mirroring that theme is the new Preparation key word introduced in Arena Grand Melee. It's brandished on each Ability and Equipment card within this mini set, and allows each card to be be played for free if you're lucky enough to have it in your hand on your first turn. These cards normally cost around 3-4 resources to play, so if lady luck is shining on you then your game should seriously speed up fast enough to lay some quick smackdown. Alternatively, if you draw these cards later on in your game, then they can be payed for their full price at that point in time. Win/Win.
Well, sorta. Die hard tournament players may find some of these cards aren't worth their full resource prices. There are some better cards out there that do things for "cheaper". Of course, some of these other cards cost 20 bucks on ebay, which is less than this entire set's strike place.
For us, life isn't all about tournament play. If it is for you then you're probably reading the wrong blog, 'cause we're all about sitting back, enjoying a beer, and beating the ego off our friends, not strangers.
Wackiness Ensues
So what, a new expansion with a new keyword, big deal. Well the Arena Grand Melee also ships with a side deck of about 100 cards that are drawn during play. Similar to the Event cards of Boss Battles, these cards inject some randomness to the battle. Some are serious, like damaging specific hero types, etc. There's also some silly cards, too, that are supposed to make things 'more fun'. Like forcing people to whisper through the game, or else suffer the consequences.
We'll try anything once. Considering that there are gobs of cards in the set, were sure that some will make the game pretty freaking interesting, and others we'll just kick to the curb.
Previews
In true Upper Deck fashion the previews are a bit chaotic. On one hand the official WoW TCG website has a series of card previews from the new mini set. This includes the new pair of heroes and the ability and equipment cards that can be placed right into your collection.
Finding official details on the Arena Grand Melee event cards is a bit more tough, but we tracked down a Preview of Cards at Upper Deck's TCG Designer's Blog. Its worth checking out to see if this new game type seems worth your time.
Here are the official WoW TCG Arena Grand Melee Details and Previews:
---
You want to stand in the grand arena. Do you have what it takes? Are your blades keen and deadly? Do your spells have the ferocity of an archmage? The Gladiators think not. Walk across the sands of the arena and prepare yourself for the greatest test of all. Soon your worth will be revealed!

Opening up an entirely new dimension of the World of Warcraft TCG, Arena Grand Melee adds all-new content, including a new twist on standard play! Now, players each bring a deck from their own World of Warcraft TCG collection and use a shared stack of Grand Melee cards to recreate the chaos that happens when battling in the Arena!
---
WoW TCG Arena Grand Melee is out now, and available to order from Amazon and Funagain Games.
Critical Gamers Staff
Permalink