WoW Minis Spoils of War Previews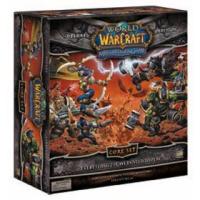 The Spoils of War expansion is out. For more information please release story.
Upper Deck will release the first expansion to the World of Warcraft miniatures table top game that launch last fall. Devout readers may note that while we enjoyed the internal mechanics of the franchise, we thought it had some problems. For one there just wasn't enough interesting content and game modes to keep our attention for long.
We're hoping that this next release will have the standard clean injection of new characters, abilities, etc, but more importantly, we're keenly looking for some map kitss. Something official that we don't have to buy $30 boxes to randomly collect from a set of 3, and which match the theme and balance of World of Warcraft PvP. So far, in the previews, we haven't seen it, and we've been forced to buid our own, and that gets tiring after a while.
Despite the dearth of cool battlegrounds, there's still still some pretty interesting things coming down the pipe in Spoils of War [Amazon, Funagain]. For one we're treated to new Weapon and Armor items that can be placed in your character's action bars. These things are so powerful that they actually contribute to the hero's honor value, so use them wisely. This could be a pretty nice addition if executed well.
Spoils also includes new Channeling powers, which generally continue to deal damage so long the caster stops, concentrations, and essentially doesn't do anything else for the duration. It'll be interesting to see how this plays out considering the game's already strong strategic depth the cost / turn mechanic where choices on what to do, when, and where play an extremely interesting role in the game.
Other than that, the set release is all about the content. Here are the preview articles so far, which mainly focus on previews of the new figures themselves. And when we say 'figure previews', it's the whole thing from 3D imagery of sculpts, all the way down to tick powers and strategy.
Mini Previews:

Read More in: Collectable Card Games | Gaming News | World of Warcraft TCG
Share this Article with others:

Related Articles:
Came straight to this page? Visit Critical Gamers for all the latest news.
Posted by Critical Gamers Staff at April 20, 2009 1:22 PM