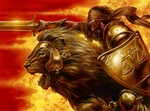 About a week ago we turned a critical eye toward Magic The Gathering Online. We wanted to see how the Game has held-up these three years since release. Our Initial impressions: the game has an aged graphics engine, a small library of uninspired sound FX, and a needlessly cryptic interface that makes Naked Lunch seem obvious. But beneath that murk lies a game just as addictive as the original 'Magic' collectible card game itself, and it's a title perfect for anyone looking to get back into the franchise.
Our full review is still forthcoming. For now we're willing to lift our obsessed little heads out of the Ravnica-block dredgefest to send some useful deck-building links your way.

Continue reading:
"Research Your Magic The Gathering Combos"
Critical Gamers Staff
Permalink