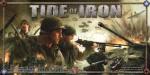 The designers behind the upcoming Fantasy Flight Games Big Box Title Tide of Iron [Funagain] have released a fairly in depth preview movie that showcases some of the W.W. II wargame's major design elements.
In the movie we see these games designers who have certainly immersed themselves in everything WWII in the hope of bringing one of the most realistic, fun, and customizable WWII games to your table top, but yet we can't help but laugh as we picture these intellectuals stuck in a real WWII setting. Sure, these guys are great at what they do, and we admire them for that, but then we picture 'em throwing down covering fire with a BAR, their teeth rattling away with the heavy recoil while their helmet shimmies off, and we can't help but snicker. Color us classless and shallow.
Anyway, if you're a W.W. II gaming fan, or if your a fan of Fantasy Flight Games' line of Big Box tiles, then you should certainly enjoy the few minutes of this walk-through preview. Here are some of the movie's topics:
The game will ship with a new Squad Bases piece mechanic. Each base sports 4 slots that you can slide various troops into, allowing players to piece together squads from various unit types such as: riflemen, machine gun teams, and mortar teams. The Squad Base also have a hook to hold special unit cards that customize squads the tools and support weapons of the squad, like Anti Tank Weapons, Medics, etc.
Tide of Iron's Command System includes tactical objectives points that players capture as they fight over map. Players spend these points to play Command Cards to affect the battlefield and their units. These cards come from a variety of decks including air support, artillery support, command support, etc. It seems as though scenarios may limit which deck a nation can draw from, providing a bit of a context for the action. For instance, we would assume that the Battle of the Bulge might lack air support as historically the infantry and mechanized units were snowed-in.
The game will ship with twelve double-sided interlocking rectangular board segments. Each side has a unique terrain layout so that the game's various scenarios will look fairly unique. Of course, there's also great potential for unique custom scenarios from the user base using a combination of boards and the online scenario editor to place command points and units.
The video also details the tactical actions that units can take in a game round, like Advance, Assault, Combat Movement, Opportunity Fire and Concentrated Fire, which draws other friendly units into a combined firing attack.
This game looks really sweet, and a great change-up from Fantasy Flight's other Big Box Games. You know - like, something based on history instead of set in a Fantasy World.
Tide of Iron is scheduled to ship in late February. Currently the game has a special edition preorder package "Operation Early Bird" from the Fantasy Flight Games website, but if you want to save 25 bucks on shipping then you can preorder the title from Funagain Games.
Critical Gamers Staff
Permalink