Catan Histories Struggle for Rome: A New Settler's of Catan Game February 1st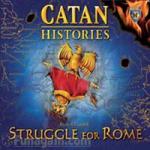 Klaus Teuber the designer behind the classic Settlers of Catan [Amazon, Funagain] is set to release his latest game on February 1st, 2007. Catan Histories: Struggle for Rome [Amazon, Funagain] is a 3-4 person game that puts players in control of barbaric tribes consuming the failing Republic of Rome. As Roman cities are pillaged, the players gain resources which they can use to settle their roving tribes, founding cities of their own. The placement of these cities is key - they produce resources depending on adjacent tiles, just like the settlements from the original Settlers of Catan.
Since movement plays a key role in the early phases of Struggle for Rome, players should expect a bit less stagnation when compared to the original Settlers. Also, a new dice mechanic ensures that at least two different resources are produced a turn, which somewhat mitigates the streak-rolling tendencies of Settlers' resource hexes.
Here's the official word of the game from the Mayfair Games website:
The Company Line: "Klaus Teuber brings the fall of the Roman Empire into the world of Catan. Struggle for Rome lets players experience the turmoil that plagued the end of the Roman Empire through Catan game mechanics. The Romans rule over an enormous empire. But now, Rome holds its imperial breath. The empire is weak. Wild barbarian hordes surge across the frontier.

You rule one of those Barbarian hordes. Your noble tribe is strong, but rival princes stand in your way! Are you wily enough to outmaneuver them? Will you have enough wealth from plundering to found your own kingdom? Your fate is in your hands: civilization is ripe for conquest! Will you forge a mighty new kingdom? Will you be the one to inherit the storied glory of Rome?

Struggle for Rome also contains 100 beautifully-crafted, miniature plastic figures. Players will enjoy plundering across Europe with their fast horsemen and marching into cities with their warrior tribes."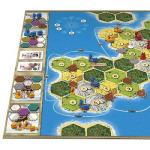 Now - everything about Catan Histories: Struggle for Rome doesn't come out smelling like roses - read this great review in the BGG forums. There are some elements of the game that seem to be a bit lacking: like the artwork probably won't blow your mind, and the continuing legacy of the Thief character is a bit odd considering that the roving tribes can simply move out of his way.
Struggle for Rome probably won't replace the original Settler's of Catan as the new gateway Eurogame of choice, but there's enough gameplay here to entice any fan of the Settlers series of games.
Catan Histories: Struggle for Rome is scheduled to ship February 1st, and is now available to preorder from Funagain Games.
Read More in: Board Games | Gaming News
Share this Article with others:

Related Articles:
Came straight to this page? Visit Critical Gamers for all the latest news.
Posted by Critical Gamers Staff at January 25, 2007 11:52 AM