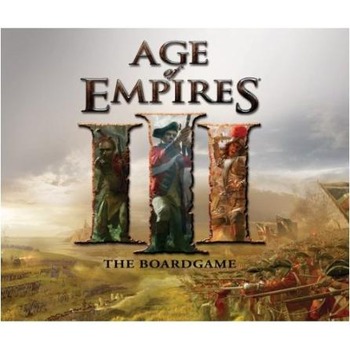 Age of Empires III [Amazon, Funagain] has a storied history. After nearly being canned when the owning publisher shut its doors just months before release, this strong title endured and was finally published in 2007. It was welcomed with open arms, too, winning nominations for best board game of the year and strategy game of the year in 2007, as well as winning the Origins Historic Board Game of the Year.
To sum up: this is a solid game. And we just learned that there's an expansion due out this year. All these things make today's Tanga sale of the Day quite noteworthy. An excellent strategy game for sale at only 50% off, placing it in the attractive $30 price range, and a stepping stone to more content in a few short months. This really is a no brainer.
Here are the game's official details:
---

It is the late 15th century and a new age is dawning. While searching for a new trade route to India, explorers have discovered a new land. The first reports tell of strange creatures, exotic people, and fabulous wealth. Captains and adventurers flock to these new lands in search of gold. They are quickly followed by colonists, soldiers, merchants, and missionaries all seeking wealth of one kind or another. Colonies begin to spring up, and soon competition among the great nations of Europe begins.

Take the role of one of Europe's colonial powers and stake your claim in the New World. As the leader of your nation, there are many paths that lead to victory: Discover and colonize new lands; acquire trade goods that will build your economy; develop new technologies and infrastructure in your home country; build your merchant fleet to dominate the trade routes; and build your army to defend what is rightfully yours!

The triumphant revel in riches and glory, while the vanquished become a footnote in the history books. It is an Age of Discovery... it is an Age of Empires!

---
For more Information about Age of Empires III, checkout the Tanga Sale of The Day Page, and its Board Game Geek Page. Enjoy!
Critical Gamers Staff
Permalink