Blokus Now on your iPad and iPhone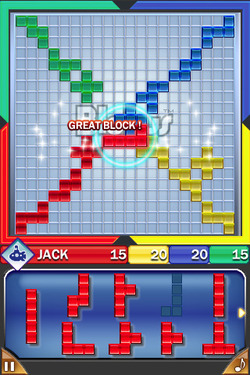 Just a quick heads up that the incredible entertaining - and Mensa Best Mind Game of the Year 2003 - Blokus [Amazon, Funagain] has been ported to the iPhone and iPad platforms [AppStore]. (Ed: native iPhone app, simulated fullscreen on the iPad.)
The game challenges you to strategically cram your Tetris-like pieces on the board (on the diagonal of existing pieces, not packing them together), while meanwhile preventing your opponents from doing the same. This digital title sports AI if you're home alone, or you can play up to 4 people through a local wireless network.
The only complaint we have about the game is that there's no hotseat multiplayer. Bummer.
Here are the official details:
---

The new award-winning hit board game arrives on the App Store! Play with your friends in local or online Multiplayer mode at one of the 4 game variations!

Rules are simple!
The winning strategy: Block your opponents so they cannot add anymore block on the board!
Blokus™ is a strategy game that will captivate you and get into your mind.


4 GAMES IN ONE
Each game variation requires a totally different strategy:

4 players control each one color,
2 players control each two colors,
4 players play in teams,
Blokus Duo™: There is only 2 different colors, the board is smaller and the start position is in the middle of the board.

---

Blokus for the iPhone/iPod &iPad; is available the Apple App Store.

Read More in: Board Games | iPad | iPhone
Share this Article with others:

Related Articles:
Came straight to this page? Visit Critical Gamers for all the latest news.
Posted by Critical Gamers Staff at April 26, 2010 5:05 PM