Carcassonne Makes it to the iPhone, iPad to Follow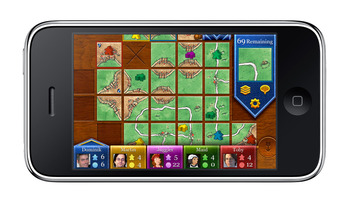 We heard earlier this week that our favorite modern classic Carcassonne [Amazon, Funagain]" had finally made its way to the iPhone/iPod Touch. We held off pushing the story to the web so we could put it through our paces and decided to either endorse it or pan it.

Well good news! The Coding Monkeys have made a heckuva port of Carcassonne. The game is smooth, clean, intuitive, and polished. It even has voice overs in the tutorials! How about them apples?
You can play in a special solitare mode, or against AI. You could even create a game with your friends over the Internets and the the server will give you push notifications when its your turn. How cool is that?
Other features include online ranking, 8 different AIs to play against, and the promise of new expansions moving forward. Not bad for 5 bucks.
Finally something else worth noting: The Coding Monkeys are working on an iPad version of the game. If you order the iPhone/iPod Touch version now then you'll be able to download the iPad version for FREE later on. Now there's a nice consolation prize.

Carcassonne for the iPhone/iPod Touch is available from the Apple App Store, and it's definitely worth your time if you or your family is into Carcassonne.
Read More in: Board Games | Gaming News | iPad | iPhone
Share this Article with others:

Related Articles:
Came straight to this page? Visit Critical Gamers for all the latest news.
Posted by Critical Gamers Staff at June 10, 2010 4:50 PM