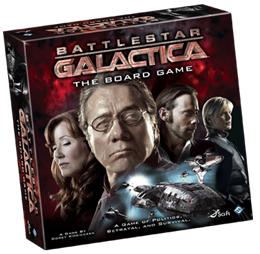 The cool month of November starts tomorrow, and that means the upcoming Battlestar Galactica board game [Funagain] slated for a November release so close that we can almost taste it. Detecting our hunger for more information Fantasy Flight Games has continued its prerelease roll out, first by posting the rules, and now following-up with a series of preview articles detailing some new, interesting dynamics of the game.
Those of you who missed the prior announcements, the Battlestar Galactica board game is based on a wide audience property but it's being pushed into an exciting small-niche: cooperative board games. Players control characters from the show, protecting the Galactica and its rag tag fleet from Cylon Attacks in social and political unrest. The goal is to survive enough jumps to make it to Earth.
But there's a monkey in the wrench: one of the players has been secretly assigned the role of cylon agent, and through acts of subterfuge will attempt to prevent the others from achieving their goal. Additionally, half way through the game there will be another cylon activation, where one other human player may, or may not, also become a cylon. Paranoia and a series of false accusations ensues.
And now onto the new stuff: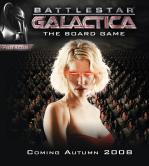 Preview #2: When Cylons Attack! [link] steps through the dynamics and mechanics of the unfortunate event of a Cylon Basestar attack, and the other passive ways the Cylons can hope to win.
Preview #3: Divided Loyalty [link]: discusses strategies on how Cylons may sabotage the Heroes while still not drawing too much attention to themselves. And on the other side of the fence, Heroes may want to keep the ship on the verge of disaster just in case they later discover they're actually a Cylon Agent during the game's Sleeper Agent draw phase. Interesting stuff that could definitely keep the game pretty tense.
In all it's looking good for Fantasy Flight Games to chalk-up another hit in their board game adapation column. Battlestar Galactica is slated to ship this November, and we'll certainly let you know just as soon as it does.
Have a good weekend.

Critical Gamers Staff
Permalink