WoW TCG: Drums of War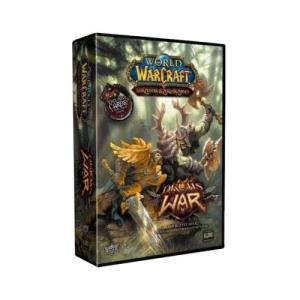 When it rainsit pours. Upper Deck has released the first installment in the 2008-2009 set of the World of Warcraft TCG. The Drums of War is looking nice. Real nice. Not only does it include a new Location Card Type, and faction-specific weapons, but the standard class roles are definitely kicked up a notch.
The set is available in three forms: a Drums of War Starter Deck [Amazon, Funagain], in standard individual Boosters of 19 cards [Amazon, Funagain], or the value saver Drums of War Box of Boosters [Amazon].
Like all new cycles Drums of War introduces a new set of keywords. Gone are the ways of the Traitor, now replaced by Shadowmeld, Diplomacy and Berserking.
An ally with Shadowmeld is both elusive and untargetable while it's in the ready state (ie: not exhausted). Get your Aldor Inspire ducks in a row. Example: Cymbre Shadowdrifter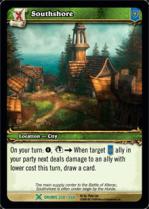 An ally with Diplomacy lets you spend 1 less to recruit other allies of that same race or faction, depending on the card. This ties resource acceleration and themed decks together quite nicely.. though do we need stronger rush decks? Example: Envoy Samantha Dillon.
Finally, an ally with Berserking adds +1 to their attack value for each damage he's holds. Example: Nok'tal the Savage , a troll who plays quite well with Kray'zin Firetusk if we do say so. And we do.
You can check out the entire Drums of War set of cards on WoWTCGDB.com in a nice pictoral layout that's easy on the eyes. Man we love that site.
Here are the official details:
---

"The thundering drums of war echo throughout the land of Kalimdor. New warlords ride through the gates of Orgrimmar, eager to serve the warchief and leave their marks on the pages of history. Small battalions of Alliance soldiers arrive at outposts throughout Azeroth. It is only a matter of time until the piercing battle cries, roaring magic, and crashing steel evoke the symphony of war once again. When the dust settles, will you be remembered, or will you fade into oblivion?"

---
Read More in: Collectable Card Games | Gaming News | World of Warcraft TCG
Share this Article with others:

Related Articles:
Came straight to this page? Visit Critical Gamers for all the latest news.
Posted by Critical Gamers Staff at October 29, 2008 2:53 PM