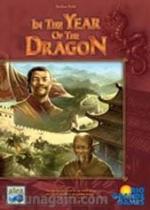 You might have noticed that we haven't reported on any new Euorgames in a while. This hasn't been due to a lack of effort, or a growing disinterest in that genre of games. Nope - instead there seemed to have been a pretty strong drought of very strong Eurogame releases, and we've been waiting for something like In the Year of the Dragon [Funagain] from Rio Grande Games for quite a while.
The game isn't difficult, but can be pretty tense. Each player in control of a Chinese town around the turn of the 11th century AD, with the goal of becoming one of those most prestigious towns in the empire by expanding their royal court. But players have to balance their royal ambitions with building a healthy robust village of workers and warriors; focusing too much on the aristocracy will leave your town vulnerable to the random events that affect play each turn, including the chances of droughts or the dreaded Mongol invasion. Players are limited to only one or two actions a turn, which makes every turn a pretty tough decision on how you want to lead your town toward survival.
Here are the official details:
"In this game, each player takes on the role of a Chinese prince, seeking to maximize the prosperity and prestige of his province in the ancient China of approximately 1,000 A.D. To assist in these endeavors, the princes must call upon the diverse talents of their courtiers, from scholars and monks to warriors and craftsmen. These loyal subjects will lend their expertise to the struggle to shield their rulers from the often disastrous consequences of the myriad untoward events that plague the populace from month to month. Be it drought, contagion or Mongol invasion, only foresight and planning will spare the princes and their subjects from these fates. The better a player can manage his province and withstand the seemingly unending onslaught of hazardous events, the more honor and victory points he will have to show for it in the end."
The game seems focused on the players struggle for survivial in an increasingly dificult world, full of natural disasters, Imperial taxes and wars. Those groups who like to fight as a beacon of civiliity within a somewhat dark world will find this game entertaining. Those who might not like trying to constantly beat back the odds - and instead consistently work toward the positive goals instead of mitigating negative random event influences might want to checkout the lighter Notre Dame [Amazon, Funagain], which has many similar elements (aside from theme).
And If you would like to know more details about In the Year of the Dragon then checkout this great User Review in the BGG forums.
Critical Gamers Staff
Permalink