Now Shipping: "BattleLore"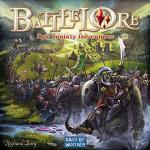 The wait is over, Days of Wonder has finally shipped BattleLore [Amazon,Funagain] to retailers, and the much-anticipated war game system is now available in stores.
BattleLore is the latest incarnation of the acclaimed Commands and Colors tactical wargame system, which is designed to speed up gameplay - to keep things fun - while still accurately simulating a tactical engagement of down-and-dirty warfare. The system started with Battlecry [Funagain] (American Civil War) and evolved through the line of very strong titles including: Commands & Colors: Ancients [Funagain] (Rome vs Hannibal), and Memoir '44 [Amazon, Funagain] (World War II).
BattleLore sets the system in the Medieval period near the end of the Hundred Years War, and slowly introduces fantasy war gaming elements through the base set's 10 scenarios. On top of that the game ships with access to an online scenario editor, and Days of Wonder promises to host user-submitted scenarios so players can keep their copies of the game fresh with new content downloaded from the Interweb.
And starting next spring Days of Wonder will begin to ship small booster packs with new unit types, new rules, and new scenarios. These wont be expansions, but smaller installments of new content with a lower price point. Buy what you want, play what you want.. a very nice product distribution paradigm in our humble opinion.
Here's the official word:
The Company Line: The world of BattleLore meshes history and fantasy together -- putting players in command of a vast array of miniature troops on the battlefields of a Medieval Europe Uchronia at the outset of the Hundred Years War.

Powerful Lore Masters, such as Wizards, Clerics, Warriors and Rogues gathered in customizable War Councils; Mercenary bands chosen from among mythical races such as the Iron Dwarves of Northern England; and Monstrous Creatures all complement the dizzying array of possibilities and tough choices that will face players as they venture in the World of BattleLore.

Contents:

over 210 highly detailed plastic miniatures
1 Player's Guide
1 Adventures Booklet
1 double-sided battlemap
46 Terrain and Landmark tiles
60 Command cards
60 Lore cards
48 Summary cards
2 War Council sheets
24 Lore Master Tokens
12 Battle dice
1 Days of Wonder Online Access Number
BattleLore is now available to order from Amazon and Funagain Games. We'll keep you posted when the game hits Amazon's shelves.
Also checkout our other BattleLore coverage for more BattleLore gaming info:

Read More in: Board Games | Gaming News
Share this Article with others:

Related Articles:
Came straight to this page? Visit Critical Gamers for all the latest news.
Posted by Critical Gamers Staff at December 4, 2006 5:14 PM