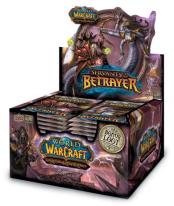 Upper Deck kicks the prerelease media blitz this week for the next WoW TCG set release Servants of the Betrayer due out in early April. Following the March of the Legion set release - one that we thought really did well to increase the deck building potential of the franchise - Betrayers will expand upon the faction-specific Aldor and Scryer themes.
But even more importantly, Betrayers asks the question of "What if your hero chose a darker path?" Answering that question will be a new set Traitor Heroes, who are darker and more aggressive forms who appear alongside the standard heroes also slated for release in this set. Most of these Traitors have flip powers that push them on the offensive in some very interesting ways, including the ability to play cards out of your opponents graveyards. Very, very nice. Supporting the traitors, and the Aldor and Sryer, will also be a new cast of allies pulled from the Outland mythos of the World of Warcraft MMORPG, and are only valid to be played from Traitor hero decks.
To balance these new abilities, the Traitor keyword replaces the Hero Specialization key words, which removes the ability for the Traitor heroes to play Talent Spec abilities. For instance, while a Traitor Mage couldn't play cards which require a Frost Mage, or a Fire Mage, because you sir, are a Traitor Mage. Jerk.
Upper Deck feature writers have truly outdone themselves this time around, writing up a storm of great card and mechanic previews articles. It all kicks off with "Acts of Betrayal" which describes the intension behind the Traitors, the issues in balancing them, and how they fit into this second Outland set release. Things spiral into bad-ass bliss from there.
We think that Servants of the Betrayer really has a good chance of shaking things up in some very interesting ways. March of the Legion answered questions we had about if the game was turning stale. As it turns out, it wasn't. And Servants of the Betrayer really could take it to that next level.
Overaching Set Introduction:

Class Articles:
The articles then went onto detailed the new heroes in the set. Two articles were released every day, one detailing the two standard heroes for each class. The second article decscribes their corrupted Traitor counterparts:
Druid:
Hunter:Mage:
Critical Gamers Staff
Permalink