Carcassonne on Xbox Live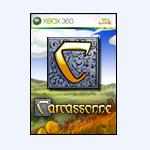 Microsoft today released the Xbox Live port of our favorite Eurogame: Carcassonne! The download is available through the Xbox Live Arcade Marketplace for 800 points (~ $10 ) and includes both the original Carcassonne game, and the popular 12-Tile Rivers expansion. The game sports single player support, online support for up to five players, and - for those family oriented gamers - hotseat support for four players on one machine.
The first Eurogame release of Catan Live has been quite a success, and we have high hopes for the Carcassonne treatment as well. We have a diffenret developer this time around in Sierra Online, but the change-up really doesn't concern us too much; Sierra has been responsible for a successfully string of online parlor games dating back to their Sierra Online service of the early 1990s.
But we are a bit disappointed to learn that the other Carcassonne expansions aren't included in this release. It would have been nice to mix up some multiplayer games with a mistmatch of the expansions. Yeah, sure that would have required Sierra to put more work into produce a larger set of art assets and the addition of some flexible AI code, but it would have paid off in spades with any Carcassonne lover.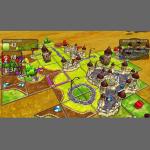 Also we're a bit concerned about the flow of gameplay in Carcassonne, too. Online matches might succumb to analysis paralysis, and become quite the snoozefest. Hopefully there's a mechanism for players to reach out across the virtual table and smack opponents out of their brain loop. We hope Sierra has figured out a dynamic warning/penalty system rather than the stock, overzealous and utilitarian turn time limit which usually makes the whole gaming experience so cold. Of course, that's probably what we'll get.
Anyway, we still have high hopes for Carcassonne Live. We'll check back in with our impressions once we have a few games under our belt. It's going to torturous work.
Read on for the official details.
Here's the official word from the game's official website:
Master strategy in the medieval world! In the classic board game Carcassonne, the medieval countryside thrives as you and your opponents place tiles and complete towns, roads, and farms while competing to amass the most points. Own the largest towns, longest roads, and biggest farms. Build your world at the expense of your opponents.

Full game implementation: Carcassonne features the complete 72 tiles from the original board game, all rule sets, and the 12 additional tiles found in the Rivers 1 Expansion Set.
Challenge your friends: Multiplayer capability allows for up to five players on Xbox LIVE®, or four players on one Xbox 360™ console.
Easy to learn and play: A helpful step-by-step tutorial will teach you the game in minutes.
Special A.I. settings: Special A.I. settings will challenge any skill level.
Read More in: Gaming Culture | Gaming News | Variants
Share this Article with others:

Related Articles:
Came straight to this page? Visit Critical Gamers for all the latest news.
Posted by Critical Gamers Staff at June 27, 2007 11:42 AM