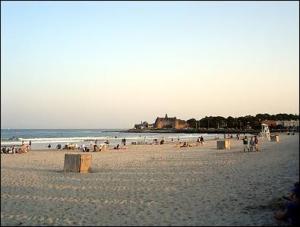 We're about all packed and ready to head out to the beach house for Labor Day weekend, including our bag o' games in tow. Yes life is tough. And hopefully you, too, will be take a nice relaxing weekend break.
Here is our selection of party games from gaming stack this year. Its a lighter set keeping in mind a we're trying to reminisce the lazy days of Summer with friends who aren't quite a group of heavy gamers:
Apples to Apples

Can't go wrong with this party game classic. Everyone and their mom like's Apples to Apples after chilling on the beach – it's light, funny, social, and easy to get into. This all adds up to an easy first selection from the the middle of the game stack.

Condottiere
Before the boys withdraw to the withdrawing room for their late night poker tournament, this card game should be a great warm up for everyone. It lacks the chip gambling mechanics which makes it "nice" for those without the gambling fever, but there's enough gameplay decisions and risks to make it attractive even for veteran poker fans. It walks that thin line so well.
Ticket to Ride Marklin
When we're actually craving a game with a board, Ticket to Ride really delivers. This one supplants the classic Settlers of Catan, which has been played almost to detail. Marklin also remains our favorite of the Ticket to Ride series, even though the stock Ticket to Ride has been brought up to date with similar mechanics via the 1910 Expansion.
Celebrity
We're not actually packing our favorite party game, 'cause there's nothing to pack! Celebrity is the perfect ice breaker for our friends who've just gathered again for the first time in a year. Funny, inventive, laid back; contains the greatest of things to get the weekend started.
Have a good weekend folks. See you on the other side when we enter the Fall season of games, and football season! Woot!

Critical Gamers Staff
Permalink