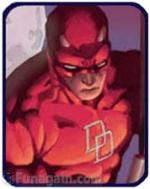 A few weeks ago we reported on the two preview articles of Marvel Heroes (Fantasy Flight Games) written by game desginer Roberto Di Meglio had surfaced in the Boardgamegeek forums. We're not really comic book readers here, but we're excited that Marvel Heroes has the same design team that worked on "War of the Ring" [Amazon,Funagain] - a game that we hold in high regard. And those two preview articles painted quite the pretty picture for the team's next project.
Shortly after Roberto's first 2 posts, he threw up a third about the game's mission system (called "Headlines") which includes some juicy details about how to resolve the random setting of the game's battles. As in - who's the super villain, what's he doing in Time Square, and why is he wearing purple fishnet stalkings? Here's a snippet:
The first thing that happens when a Hero (or group of Heroes) try to solve a Headline is to generate how much Trouble he's getting into: this is done with a roll of the special dice included in the game. There are a few cards which can affect this roll, but most important is that on a Mastermind Headline the Nemesis of your team may put his own weight and try to increase the trouble by performing "Scheming" actions.

Every villain has his specialties, so of course expect bigger problems when facing a Crime headline if Kingpin is your Nemesis! After trouble is generated, the Hero uses HIS ratings to reduce it. If it's now zero, great! The mission is solved. But most often you will have trouble left: this means that some nasty super-criminal is in action and you've got to fight... From Marvel Heroes: "A Preview" by Roberto Di Meglio
We didn't post this one right away because we hoped Robert would toss-up a fourth installment shortly thereafter, and we wanted to digest this stuff instead of pinging you every time with a new article. But the fourth installment (on the combat system) never arrived. We'll keep an eye-out for it, and uh, ping you, when it does.
Critical Gamers Staff
Permalink