WoW TCG Feast of Winter Veil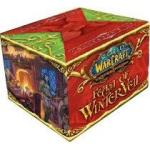 The WoW TCG has just sent out a sweet little stocking stuffer for the Holidays. The Feast of Winter Veil [Amazon, Funagain] is somewhat of a first in the line of World of Warcraft Trading Card Game releases. It's not a set, nor a raid, but instead a mini set themed release. It includes: ten rare holiday themed cards, a booster from each of the standard set releases of Heroes of Azeroth, Through the Dark Portal, and Fires of Outland, and it's all packaged in a slick little deck box with which to lug around your favorite decks.
A very nice release we might say. In fact we do say. The cards are play dynamic on the gameplay front and are very well themed for both the World of Warcraft MMORPG Feast of Winter Veil content and for the true holiday season - which makes them fun – but they're also quite useful, too. Going down the list we've all nod our heads in appreciation of how well these things fit into all of our decks. Plus a deck box carrying case to boot? Sign us up!
Here are the 10 cards in the Feast of Winter Veil mini-set: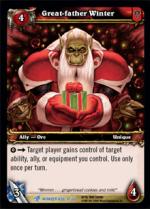 Read More in: Card Games | Collectable Card Games | Gaming News | World of Warcraft TCG
Share this Article with others:

Related Articles:
Came straight to this page? Visit Critical Gamers for all the latest news.
Posted by Critical Gamers Staff at November 19, 2007 3:13 PM