Kickstarter Projects Worth Backing!
If you have never heard of Kickstarter, then let me give you a quick rundown. Kickstarter is a web based funding project that allows creative individuals the opportunity to pitch their products online in an attempt to get their product published. The project will be posted and different levels of commitment are offered, which also determines what the supporter receives if the project is funded. This allows the individual to fund the design or publishing of their product, create a fan base and hype, and keep the copyrights to the property all in one fell swoop. It is a fantastic website and has already helped many inventors, designers, and others seek their dreams of publication. The following list are some of the awesome projects that can be found on Kickstarter that are looking for your support to bring to fruition and, honestly, we love the little guys.

Battle Connection or BattleCON for short, is a card game that attempts to bring a 2D fighting game to the tabletop. BattleCON uses a 5 tiered attack system with ranged attacks and requirements to add another layer of depth. Between the combat style and the fantastic artwork, this game will definitely be a hit. There are 13 days left to support the project on Kickstarter, so if you are a Yomi fan, you might want to check this out as well.
At BattleCON
Based off the Battlefield Press logo, you might think that this next project is about wargaming, but how wrong you would be. It is called Eldritch Skies and is a Lovecraftian sci-fi book RPG that uses the Cinematic Unisystem rules which was developed by Eden Studios and used in their games Buffy, Angel, and Ghost of Albion. So what is Eldritch Skies about? As written by the designer -
"It's a game about humanity on the threshold of the stars, where it is starting to explore the wonders and terrors of the cosmos. It is a game where the characters defend humanity against various terrible threats, including both malevolent aliens and equally dangerous humans. It is also a game where the characters will help humanity take its place in the cosmos alongside the other important species, such as the mi-go or the great race of Yith. In your hands, this game can be the story of the triumph of humanity over adversity or it can be the story the doom of humanity, not because this doom is inevitable or unavoidable, but because the cosmos is dangerous and sometimes there are no second chances for sufficiently serious mistakes."
Sign us up!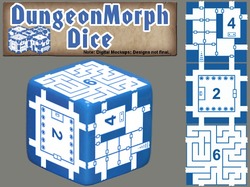 And then there is DungeonMorph Dice, a simple, yet brilliant, idea. It is one of those "why didn't I think of that" kind of project that has a great premise around it. Essentially you have five dice (which can be doubled for regular six-sided dice) that has a different geomorph pattern on each side. The GM then rolls the dice and can use the patterns, in any combination, as inspiration for the dungeon map for that game. Currently there is only one pattern set available with backing which is the dungeon pattern; however, if the extended goal is reached they will offer a cave pattern set as well. So if your backing level is high enough to get multiple sets of dice and the extended goal is reached, you should be able to get both patterns. Great for any DM who wants to spend less time on dungeon layout planning and more on content.
Read More in: Board Games | Collectable Card Games | Gaming Culture | Gaming News | RPGs
Share this Article with others:

Related Articles:
Came straight to this page? Visit Critical Gamers for all the latest news.
Posted by Critical Gamers Staff at April 8, 2011 8:33 PM