Quarriors! Expansion Slated for November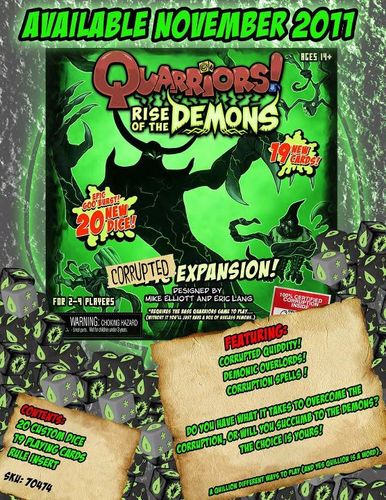 As seen on ICv2 - http://www.icv2.com/articles/news/21034.html
WizKids has announced the November release of Rise of the Demons, an expansion for its innovative Quarriors! Dice-Building Game (see "WizKids Launches Dice Building Game"). Rise of the Demons features 20 new custom dice and 19 new cards. Designed by Mike Elliott and Eric Lang, this "corrupted" expansion for 2-4 players (ages 14 and up) combines innovative corruption mechanisms with the introduction of Demonic Overlords, Basic Corrupted Quiddity, and Corruption Spells.

Players can attempt to flood their opponents' bags with corrupted dice to slow their progress, or they can hoard their resources to purchase Demonic Overlords from the Wilds. Do you have what it takes to overcome corruption, or will you succumb to the demons? The choice in Rise of the Demons is yours.

Read More in: Gaming Culture | Gaming News
Share this Article with others:

Related Articles:
Came straight to this page? Visit Critical Gamers for all the latest news.
Posted by Critical Gamers Staff at September 15, 2011 9:32 PM