Ticket to Ride Asia is Available for Pre-order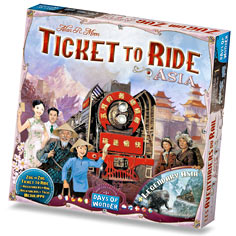 Days of Wonder is now accepting pre-orders for the latest expansion to the Ticket to Ride series, which has been generally accepted to be one of the top board games ever produced. Ticket to Ride: Asia is going to be great for two reasons: first, it is a long awaited addition to the analog version of the series, although technically the Alvin & Dexter expansion came out this year. However if you only include true board based expansions, then the last official release would be the Nordic expansion in 2007. Since then Days of Wonder has been more focused on bringing the title into the digital space with Xbox LIVE Arcade version in 2008 and the iPad version released last May. Second, on the back side of the map will include a second map which will be a printing of François Valentyne's, one of the contest winners, submission called Legendary Asia. So not only is this a long awaited addition, you get double your money's worth. Priced at $30 USD, you can't ask for a better value.
Read More in: Board Games | Gaming News
Share this Article with others:

Related Articles:
Came straight to this page? Visit Critical Gamers for all the latest news.
Posted by Critical Gamers Staff at September 12, 2011 8:59 PM