Small World Hits iPad on Launch Day. Crazy!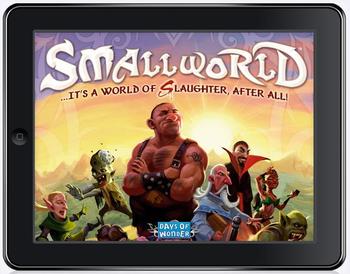 Wow. We've always admired Days of Wonder to be one of the more tech savvy board game publisher. Each of their titles ships with a codes printed on their instructions that let you play their games on their online game site. That means that for every game they work to produce in card board form, there's another incarnation brewing in their computer lab, too.
So if any one publisher was going to make a shift to the iPad, we suppose it would have been Days of Wonder. No surprise there. But to have a game on iPad launch day? Crazy.
Check out the official website for more information on Small World for iPad. Or checkout the 'analog' version of the boardgame at Amazon or Funagain Games.
Here's the official word:
---

Small World is an award-winning fantasy game where players vie for conquest and control of a world that is simply too small to accommodate all of the zany races such as dwarves, wizards, amazons, giants, orcs and even humans that inhabit it. Sitting across from each other around the iPad, you will use your troops to occupy territory and conquer adjacent lands in order to push the other players' races off the face of the earth, in this rip-roaring fun digital board game.

---
Read More in: Board Games | Gaming News | iPad
Share this Article with others:

Related Articles:
Came straight to this page? Visit Critical Gamers for all the latest news.
Posted by Critical Gamers Staff at April 2, 2010 1:08 PM