Naxxramas Descends Upon WoW TCG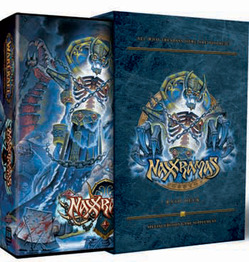 We got word from the ether that the WoW TCG Naxxramas Raid Deck [Troll&Toad;] has shipped over the holiday break. In fact, our copies should be arriving at our office any time around now.
This is of course the first raid deck for this Scourgewar Cycle, which pits the heroes against the undead hordes of the Lich King. First up is the floating Citadel of Naxxramas, home of countless evil undead and demony bosses, who are all lead by the lich Kel'thuzad. (Wow, we can't believe we just spelled that correctly).
So what's new in this raid? Tons. Gone is the old Trash Mob mechanic. Instead expect more powerful bosses and their flavored minion entourage. Also, Naxxramas departs from the old linear raid and lets players tackle up to four wings of the dungeon before taking on the boss. Each wing comes with its own overaching challenge, like decreasing the attack of your heroes until you defeat the last boss. However, once you clear a wing, you'll get a buff that will stick with you for the rest of the instance.
Balancing out how many buffs you acquire before you take on the Kel'thuzad in the final boss showdown, with how spent your heroes are, is all part of the game.
Other new elements include a Raid Leader who represents the heroes during important Events in the raid. Also, shipping alongside the raid are Individual Treasure Packs

for about 10 bucks. You can use them as rewards for your party as they tackle each section, or refresh an already conquered raid to reward repeat players who make repeat runs, or you could simply extend your collection by buying your own pack on the side. Slick little move Upper Deck, we applaud it.
For a more indepth preview of the raid check out the Official Page (including a link to the rules), or read the two preview articles: Naxxramas Preview - Introduction... to Doom! and How Eventful!
Good luck!
Read More in: Gaming News | World of Warcraft TCG
Share this Article with others:

Related Articles:
Came straight to this page? Visit Critical Gamers for all the latest news.
Posted by Critical Gamers Staff at December 28, 2009 4:55 PM