WoW TCG: Blood of Gladiators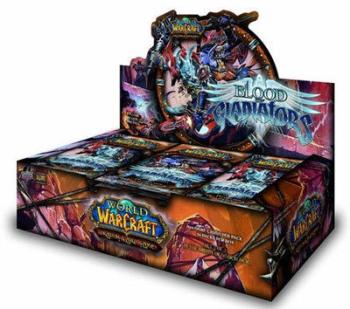 Blood of Gladiators Booster Box [Amazon]
Blood of Gladiators Boosters [Amazon, Funagain]

Oh man, it's time to get back to some WoW TCG gaming goodness. The winter has been long -- last October we put more of our hard earned money toward the inaugural set of WoW Minis instead of the the new third WoW TCG cycle: Drums of War. We chose poorly (read why).
While we wait to see if the WoW Minis franchise can climb out of the crevasse it failed to hurdle in its initial release, we're going to go back to the WoW TCG for our mainstay World of Warcraft gaming experience.
Thankfully Blood of Gladiators looks pretty darn strong. The set centers around the World of Warcraft arena play. The allies in this installment come as standard run of the mill allies (with new keyword powers, see below), but they also appear in separate cards as their Arena alter egos. Just as WoW MMORPG players have their own PvP set of gear, the Arena Allies in Blood of Gladiators sport new Player versus Player themed abilities and attack powers lifted straight from WoW PvP Talent trees.
Additionally, the set includes new racial rules that should make your arena teams click nicely:
Inspiring Presence: If a hero or ally in your party would deal non combat damage, it deals that much damage +1 instead. This seems to be a Draenei racial ability, so don't expect your damage over time Horde Warlock, Priests or Mages to get any love. Sad for us, because we almost always roll Horde. Guess it's time to make a few more decks. [Read More]
Arcane Torrent: breathes a bit of life into those pompous Blood Elf allies: When this ally enters play, target opposing card in play loses and and cant' have powers this turn. Used well this could seriously run somebody's day. [Read More]
Hardiness: can be found on the new Orc allies in Blood of Gladiators. This ability says "if this ally would be dealt damage, prevent 1 of it." About as dry as a Vodka Martini. Those poor orcs need some more interesting stories. [Read More]
We have a complete index of all the feature articles including the new Faction spanning allies, and the new loot cards, in our Blood of the Gladiators Preview article. Check there for a full list of information about the set.
Enjoy!

Read More in: Gaming News | World of Warcraft TCG
Share this Article with others:

Related Articles:
Came straight to this page? Visit Critical Gamers for all the latest news.
Posted by Critical Gamers Staff at March 30, 2009 4:26 PM