WoW Minis Launch Hub - Everything You Need to Know
It's here! The biggest release of the year is here!
World of Warcraft Minis follows hot on the heels of the successful Upper Deck smash-hit World of Warcraft the Trading Card Game, which has impressed us immensely from both a gamer's perspective and from a World of Warcraft fan's perspective.
Now it's time for Upper Deck to bring us into the world of World of Warcraft once again, and this time it's in 3D. WoW Minis sports spacial tactics, rarity scales, collecting, and even 100% cooperative raid content.
Just about every aspect of the game is top notch. We had a chance to put our hands on the game at this years Penny Arcade Expo, and we walked away very, very impressed and more excited than we had ever expected to be.
Today we'll cover all the info you need about WoW Minis to get started, including the various kits, rules, and a listing of all the official feature previews that have been published so far - all in a nice completely page of WoW Mini goodness. Enjoy!

WoW Minis Synopsis
Here's a quick lowdown for all you If you're just getting into the World of Warcraft Miniatures franchise. The game centers around you controlling a party of same-faction characters, either from the Horde, Alliance or Monster faction. The characters have various races and classes pulled straight from the Warcraft universe, like Humans, Dark Elves, Trolls, Orcs, and Murlocks, and Mages, Warriors, Clerics, Paladins and Priests, the works. Your duty is to take-on your friend in tactical battles of positioning and strategy, using the collectible characters and their collectible abilities to match wits with your opponent and beat the every gnomish snot out of that oppose you.
The characters and abilities you collect in WoW Minis will come in various shapes and sizes, and will be released in waves. The premier release contains 70 figures and is available to collect in two forms: A Starter Deck and in Booster Packs of 3 random figures. The characters come in rarity scales and are part of various factions, so you whenever you unpack a box you might find a very rare gem of a character or a team of 1-2 punches waiting for you inside!

The Rules
If you're like us then you want to read before you buy. It's just general common sense. Here are the World of Warcraft Minis Official Rules as presented by Upper Deck. If you're looking for a quick peek then you can also tryout the WoW Minis Rules Primer.
The First Release
Before we start diving into the rules of the game and check out the should first set up some expectations of what you'll need to buy to get playing. Basically everyone who is looking to play should start with a WoW Minis Starter Set. These sets include many things you'll need that aren't included in the cheaper box of boosters. Mainly the set includes a collection of 7 UBases (a proprietary form of mounting your figures and keeping track of stats in the battlefield) that you'll need to play now, and for all sets in the future, and a stock cast of characters designed to get your collect going. More on UBases later, here are the official details of the WoW Minis Starter Set: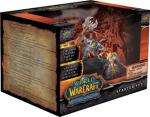 WoW Minis Starter Set [Amazon, Funagain]

Hold the power of Azeroth in the palm of your hand! Let the heroes of Warcraft enter your world as Upper Deck Entertainment introduces the World of Warcraft® Miniatures Game! Arrows fly through the air, axes crush the unwary, and spells illuminate the landscape. From the forests of Ashenvale to the rolling dunes of Tanaris - Horde, Alliance & Monsters battle for domination! Victory is huge in this miniature world. The battle is here. Cut your opponent down to size!

Core Set is the inaugural set in the World of Warcraft® Miniatures Game, a premium collectible miniatures game based upon the award-winning massively multiplayer online role playing game, World of Warcraft. Each Starter set has everything two players need to learn and play the game (miniature figures of two Alliance characters and two Horde characters, plus detachable UBases, dice, rulebook and a game map). Also included are four character cards (one per figure) and eight ability cards (two per figure).

4 Exclusive Miniatures - (two Horde; two Alliance)
4 Character Cards (1 for each miniature)
8 Ability Cards (2 for each miniature)
6 Custom Dice (three Horde; three Alliance) with unique Critical Hit Icon.
6 Miniature UBases
1 Double-sided Game Map
1 Quick Start Rulebook
1 Core Set Checklist
Once you have your collection established, then you're going to want to start buying some WoW Mini Boosters. This is the main way to increase your collection. Each booster will contain 3 new characters that share one of the same factions: Horde, Alliance, or the Monster faction. We recommend getting at least 2 Boosters with your Starter Set, or Three if you really want to startout strong. Here are the details: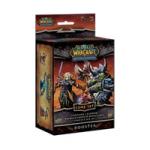 WoW Minis Booster Pack [Amazon, Funagain]
Arrows fly through the air, axes crush the unwary, and spells illuminate the landscape. From the forests of Ashenvale to the rolling dunes of Tanaris, Horde, Alliance, and Monsters battle for domination in the World of Warcraft Miniatures Game!

3 Randomized Miniatures - (pulled from a single faction)
3 Character Cards (1 for each miniature)
6 Ability Cards (2 for each miniature)
1 UDE Points Card
Some will contain a randomly inserted Loot™ Card

Official Preview Articles
Now that you know what's-what on the general level, its time to delve down into some of the game's specifics. We've cataloged and written a synopsis for each of the World of Warcraft Miniatures feature preview articles that have been published by Upper Deck during the run up to the game's inaugural release. Anything and everything you need to know about basics of the game have been covered. Enjoy!
You're On The Clock [link] : The turn / game clock is revealed, and could be best summed up as a dynamic initiative system close to some of the newer Japanese Role Playing games on console. Or, if that doesn't fill your engine, then imagine a cyclical turn track with 10 enumerated ticks, and you mark each figure's next move by placing its marker on a specific tick. The character's marker changes whenever he acts, pushing it further along the track to maker the number of ticks they'll have to wait before they can go again.
Examples are given where some of the slower acting / hard hitting characters like Gorebelly have 4 ticks between certain attack moves, while some of the faster characters have weaker abilities but act every 1-2 ticks.
Worth noting is that the delay durations are based not just on characters, but their abilities, too. Moving a character - even a slow one - may incur a smaller delay time than striking with a weapon, for instance.
This new turn order mechanic has been officially dubbed the Base10 (tm) Engine.

Time to See What's In The Cards [link]:
Each mini has a card associated with it, sporting the statistics and general information like the name, Race, Class, and Faction (alliance, horde, or monster) for the miniature. Also prominently place is the characters Honor - which loosely evaluates the power / worth of the character which becomes important when creating parties for certain scenarios.
Though light on the rules, the article introduces gobs of new information on how character abilities will effect play. Statistics include: Armor (melee) and Resist (magic) defensive values; Health; Attack Range, Power, and Type; Tick which is used to evaluate placement on the Base10 Engine (above) whenever an attack is made; and the Critical Hit ability which activates in combat when the character achieves a specific hard-to-achieve roll in combat.
Finally the article steps through a passive power in the Lower Box which is a catchall for healing, buffing and aura abilities of each character. There's a lot going on here, but its simple and it tickles the brain to think of how all of these characters will have balanced and unique values for all these statistics.

UBase, Movement, and Line of Sight [link]:
Contains a shotgun blast of information. For one, the game's unique UBase is revealed, which contains a slider that helps keep track of a character's Tick value and turn order on the board. Also, movement is introduced, which gives each character 2 movement points at the begining of their turn, and the idea of terrain granting various bonses is also introduced.
Finally, the article describes Line of Sight rules. If you've played any game with basica LOS rules, then you'll feel quite at home here.

Ready, Set, Fight! [link]:
Steps through a combat scenario. It's actually pretty straight forward: when a character attacks, you roll a number of 10-sided dice equal to the character's attack. For instance, if a character's attack is 5, then you roll 5 10-sided dice. Each die with result of 4 or greater scores a hit. Rolling a 10 counts as a critical hit, and activates the character's critical hit ability as defined on their character card.
The defender has two different defensive scores which you select depending on the attack type (melee or magic). The score dictates how many dice the defender rolls. Each succesfull defending rolls (of result 4 or more) nullifies one of the attacker's successful rolls.
Any of the attacker's rolls that still exist count as damage to the defender. If the total damage exceeds the defender's health, then the defender can kiss his buttocks goodbye.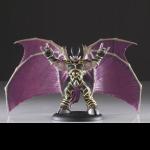 It's Party Time! [link]:
Details the rules in making parties to crush your friends in two different formats: Battleground and Arena.
Arena is straight forward: You and your opponent agree upon a target total Morale value and a set number of characters, and then add characters to your party to match those goals. Keep in mind that each character has a different morale score, and your cast of characters in your party must come from one pool of either Horde characters, Alliance characters, or the agnostic Monster characters.
Battlegrounds are a bit different. Instead of agree upon a total morale, you can go free form. The battleground scenario itself has various rules on how to achieve victory points, either through kills or holding specific locations. The winner is the player who achives as many victory points as the total morale of all their characters. So parties consisting of heavy hitting / higher-morale characters will have to achieve a higher point total to win.
Now that's some intriguing stuff.

Action Bars & Turn Order [link]:
Reveals the Action Bars which are essentially the 2 deck set of cards each character has.
There are 3 Types of Action Cards: Reacts which have no cost, and can be played on other player's turns. Instants, which have no cost, and can be played only on your turn. And standard Actions which can be used instead of standard attacks on the character's turn, and have a tick cost - meaning that it will push-back the next time a character will have a turn again, just as regular attacks do.
Actions can range from just about anything, from heals to damage spells, and are determined by class restriction. Now minis ship with action cards, but that doesn't mean they're the only character who can use them; a mage mini can borrow mage action cards from other characters, so long as the pass other restrictions. Often, though, you'll be able to mix and match these actions with new characters.. and isn't that the whole point of the game?
Oh - one more thing: You tap an action card when your character uses it. All actions untap when the turn counter resets from 10 to 1. Turn strategy just got a whole lot more interesting.

Everyone Needs a Sidekick [link]:
Describes mechanics around pets and shaman totem cards, which are action cards. These little guys have physical manifestations on the board, with pets actually getting their own turn to move and act on their own.
The Field of Battle [link]:
Ahhh finally! Like a good aged scotch we savor this eventual introduction of the battlefields that will soon adorn your table top. Of special interest are two things, the first being a Battleground scenario of capture and hold which that includes a victory point condition (rather than the last-man-standing Arena battleground type). Also discussed is the schedule of future battleground and arena map releases, including new maps at WoW Mini events, through expansions, and a customizable map kit slated for release next year.
Secondary Abilities [link]:
The title of this final preview article lacks oomph, but the subject matter is just as important as all the rest.
Secondary Abilities are those abilities printed in the catchall portion of a character card. This article previews all of the keywords we should expect in the initial release of the WoW Minis game. These keywords include: stealth, evasive, recharge, flight, taunt, protector and legendary. The article also discusses the various types of abilities: activated, ongoing, racial and aura abilities.
It's amazing how much content can be covered in such a ho-hum article name.

Fin
That's it. That's all you can ever need to know about the World of Warcraft Minis game at release. We hope you enjoy the game as much as we do, and who knows, we may see you at an event up in Boston.
Until then, may your battles be swift, and your friends defeated... at least until the Raid Bosses start coming out. Then it's all Kumbaya and let's go gut some Dragons. Yeah, you heard us.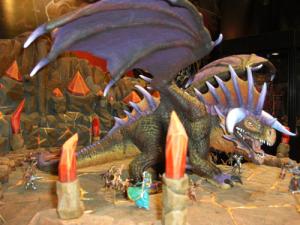 Read More in: Collectable Card Games | Gaming News | World of Warcraft TCG
Share this Article with others:

Related Articles:
Came straight to this page? Visit Critical Gamers for all the latest news.
Posted by Critical Gamers Staff at November 11, 2008 10:27 PM