Le Havre Board Game - A Destined Classic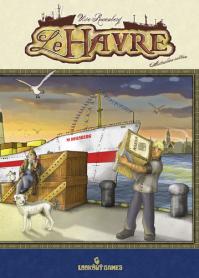 It seems Lookout Games has another hit on their hands just in time for the fall.
The board game La Havre [Funagain] follows the same theme of its award winning cousin Agricola [Amazon, Funagain], but instead of pulling the strings on an small agricultural farm players serve as tycoons working their strategic magic in the major port city of Normandy, France.
Players will purchase goods, push them through their own processing plants & ships, or pay to use another player's, and attempt to sell their goods for cold hard francs. Players are then evaluated and ranked on their shipping, manufacturing and cash assets at the end of the game, and with random draws and setup there are quite few different avenues and styles to play to get you to the top.
The game is very dynamic, plays fast, is elbow deep in the strategy, and yet pretty darn easy to pickup considering the amount of content. And though it's recommended for 12 & UP, it'd probably work best in the family environment if you have kids in the early-teens at least. Otherwise, this is AAA title for adult gamers and gaming groups.
If you want to read more about the game then we highly recommend this fantastic BGG User Review. You can also read the rules [pdf], and finally here are Le Havre's official details:
---

"About the Game

Le Havre is a French city, containing France's second largest harbour (after Marseilles). The city is notable not only for its size but also for its unusual name. The Dutch word "Havre", meaning "Harbour", was adopted into French in the 12th century, but these days it is considered archaic and "le port" is used instead.

The principle of the game is simple. A player's turn consists of two parts: First, distribute newly supplied goods onto the Offer spaces; then take an action. As an action, players may choose either to take all goods of one type from an Offer space or to use one of the available buildings. Building actions allow players to upgrade goods, sell them or use them to build their own buildings and ships. Buildings are both an investment opportunity and a revenue stream, as players must pay an entry fee to use buildings that they do not own. Ships, on the other hand, are primarily used to provide the food that is needed to feed the workers.

After every seven turns, the round ends: a Harvest increases players' grain and cattle reserves, and players must feed their workers.After a fixed number of rounds, each player may carry out one final action, and then the game ends. Players add the value of their buildings and ships to their cash reserves. The player who has amassed the largest fortune is the winner." - Le Havre's Official Rules

---
Read More in: Board Games | Gaming News
Share this Article with others:

Related Articles:
Came straight to this page? Visit Critical Gamers for all the latest news.
Posted by Critical Gamers Staff at November 17, 2008 2:14 PM