WoW TCG: Blood of Gladiators Crafting Redemptions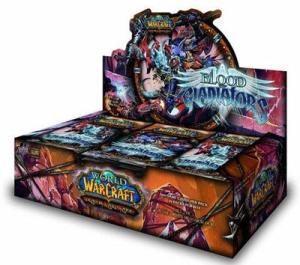 We assume that by now you've ripped through all the shiny foil wrappers that separated you from your WoW TCG Blood of Gladiators cards, and you're elbow deep in a slew of arena grudge matches.
But is you savant friend still kicking the snot out of you with his uber hero, even with your new collection? Yeah, we know the type, and yeah, we hate him as much as you.
Its time to gather up all your UDE Point / Tradegood cards and give your favorite hero that extra oomph that might push your guy over the edge. The following are this set's custom crafted armor, created by sending in a mass of your collected Trade Good cards as part of the Blood of Gladiator Crafting Redemption Program.
You haven't been throwing those things away, have you??
---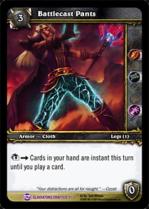 Battlecast Pants [WoW TCG DB]
Some slick Hot Pants for you Caster Types.
Click Image to Enlarge.
Ingredients:

4xPrimal Air
4xPrimal Fire
4xPrimal Earth
4xPrimal Water
4xPrimal Mana
6xBolt of Imbued Netherweave
1xPrimal Nether
---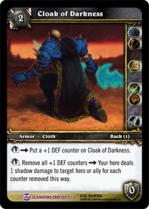 Cloak Of Darkness
[
WoW TCG DB
]
A haiku (ahem):
A Buffed Cloak for All
Like Cheese it Matures with Age
Store in a Dry Place.
Click Image to Enlarge.
Ingredients:

8xPrimal Shadow
6xHeavy Knothide Leather
8xBolt of Soulcloth
2xPrimal Nether
---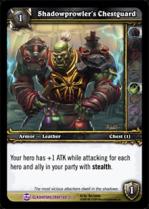 Shadowprowler's Chestguard
[
WoW TCG DB]
Reason enough to put allies in your Rogue deck? Hmm.. perhaps... but seems like it's cut more for a Druid.
Click Image to Enlarge.
Ingredients:

5xHeavy Knothide Leather
6xPrimal Earth
6xPrimal Shadow
8xBolt of Soulcloth
1xPrimal Nether
---
Read More in: Collectable Card Games | Gaming News | World of Warcraft TCG
Share this Article with others:

Related Articles:
Came straight to this page? Visit Critical Gamers for all the latest news.
Posted by Critical Gamers Staff at April 7, 2009 6:11 PM