Talisman: The Dungeon Expansion Released
Fantasy Flight Games has just released the Talisman: The Dungeon [Amazon, Funagain] expansion to the dungeon romping Talisman 4th Edition. The Dungeon is a remake of one of the original Talisman expansions released nearly 22 years ago (aka Back in the Day) that adds a L shaped dungeon area to the board standard game board. Adventures who head in will find new encounters including new monster types, traps, and swine flu laded burritos. And, of course, players should expect new rewards to boot.
In true Fantasy Flight Fashion, the expansion is well previewed on the Fantasy Flight Game's website in a series of articles:
Ok, so the collection of titles doesn't have a top shelf level of awe inspiring inventiveness. Thankfully each of the previews itself is a great read complete with rules and flavor. And while they might tell you all you've ever wanted to know about the game and more, we're still going to quote the rounded off product details, 'cause maybe you're in a hurry, but more importantly it's like, our 'thing'.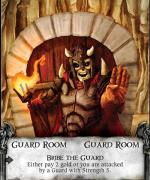 ---

Talisman: The Dungeon features five new characters, including the Gladiator and the Philosopher, 20 new Spell cards, 10 new Adventure cards, and 10 new Treasure cards. The expansion also features a board expansion, the Dungeon, which adds a whole new area of exploration, and 128 Dungeon cards, featuring events and encounters that only occur in the Dungeon. Game Contains:

Game Contains:
1 Rulebook
1 Dungeon Board
128 Dungeon Cards
20 Spell Cards
10 Adventure Cards
10 Treasure Cards
5 Character Cards
5 Plastic Figures

---
Talisman: The Dungeon is now shipping from Amazon and Funagain Games.
Read More in: Blogpire News | Gaming News
Share this Article with others:

Related Articles:
Came straight to this page? Visit Critical Gamers for all the latest news.
Posted by Critical Gamers Staff at April 29, 2009 10:08 PM