Talisman Revised 4th Edition is Out!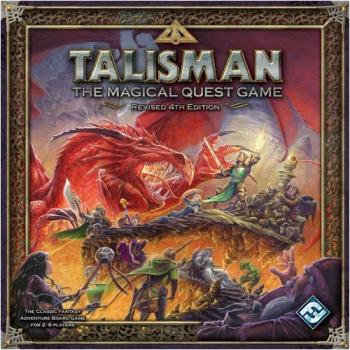 Many of us remember saturday afternoons of childhood hunkered around an epic game of Talisman. It was one of those games that grabbed you by the noggin and smacked your head against the table.. in a good sort of way. Well this week Fantasy Flight Games has sipped a new Talisman Revised 4th Edition [Amazon, Funagain], and if ever you've been interested in this franchise, then this edition of the title is very much worth your while.
A Fantasy Flight revision usually means high quality stock, high quality pieces, new rules, and ongoing support in an online community. But aside from the granted staples, this Revised Edition sports new decisions on how to improve upon Talisman's mechanics to take the franchise to the next level.
For one, the designers wanted to keep the player count high (2-6) but decrease the time ti takes to play (under 2 hours). Considering we rarely have entire afternoons to lose ourselves in a marathon sessions of old school Talisman, this seems like a good thing to us.
They've also introduced new rules that help characters from dying so bloody often; the premier example being the new Fate mechanic. Each character has a pool of fate, each token giving them the ability to reroll one die result when it's needed most dire. But fate is rare, and once it's used the character will have to venture out of their way to get more, like spending a turn at a temple to pray for Fate instead of life, for instance.
Additionally there was a careful look at the major features surrounding the character factions, and they were rebalanced to make playing Evil characters a more viable option.
In a similar fashion, the game's locations have gotten a mechanical face lift to ensure there's always something to do for your character, no matter how remote the location he finds himself in the world.


For more information on the revamp checkout these feature preview articles written by the game designers on the Fantasy Flight Games website:
The Vagaries Of Fate: A glimpse into the world of Talisman
Location, Location, Location: A look at the changes made to the Talisman board
The First Step On Your Quest: A preview of the new warlock quests in Talisman
Here are the Taliman's Revised 4th Edition official details:
---
Enter a mythic world of dragons and sorcery!

In Talisman, you'll embark on a perilous quest for the ultimate treasure, the legendary Crown of Command. You'll choose the warrior, priest, wizard, or one of eleven other heroes with powers both magical and mighty.

This revised version of Talisman Fourth Edition includes plastic figures for each of the heroes, and even plastic figures for the toads! Strength and Craft additions are even easier to track with the new stackable markers.

But the path to the crown is treacherous. Legends say that only a fabled Talisman can safeguard you in the lands past the Portal of Power. Yet, finding such an artifact is no small feat: monsters, traps, and evil magic wait to defeat you at every turn.

So summon your courage! You will need it to best your opponents, to secure the crown, and to seize your destiny!

---

Talisman takes you on a journey through magical lands, as you endeavor to reclaim the Crown of Command. Each turn will see your hero advancing, battling, gaining knowledge and power necessary to defeat the guardians lurking between the Portal of Power and the Valley of Fire.

Game includes:


Revised Rulebook

6-fold game board

14 Character Cards with matching plastic character figures

Over 100 Adventure cards

24 Spell cards

28 Purchase cards

4 Talisman cards

4 Toad cards

4 Plastic Toad figures

4 Alignment cards

6 Six-sided die

40 Strength Counters

40 Craft Counters

40 Life Counters

36 Fate Tokens

30 Gold Coins



---
Read More in: Board Games | Gaming News
Share this Article with others:

Related Articles:
Came straight to this page? Visit Critical Gamers for all the latest news.
Posted by Critical Gamers Staff at December 14, 2008 5:50 PM