Check out our New Site SuperCoolPets.com and Win $50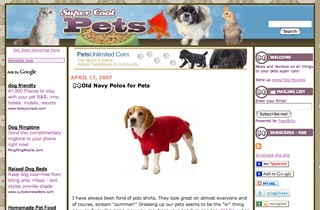 Thanks for being an avid reader of our blog which is published by Blogpire Productions. We'd like to share with you a new title just launched today - SuperCoolPets.com. Blogpire started SuperCoolPets.com to help other pet owners find the pet products they really need, to help them stay away from the products that they don't, and to point out cool stuff along the way.
Want a really good reason to visit? If you sign up for the Super Cool Pets newsletter by using the form below or on the SuperCoolPets.com web site, you'll be eligible to win a $50 gift certificate from Amazon.com. That's right, all you have to do is sign up for the newsletter and be on the list when we pick the winner at the end of May.
So sign up below and visit Super Cool Pets for all the latest pet news, gadget, and toy fun!
Read More in: Blogpire News
Share this Article with others:

Related Articles:
Came straight to this page? Visit Critical Gamers for all the latest news.
Posted by Blogpire Productions at April 30, 2007 10:01 AM