Axis and Allies Monster Anniversary Edition Details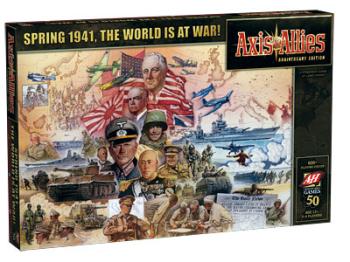 Our friends over at Axis&Allies.org; tipped us off today about emerging details on the next installment of the venerable Axis & Allies franchise. The new edition brings together things both old and new, and scales them to records size in the process.
2008 is the 50th Anniversary of Avalon Hill's founding, and throughout the year the company has been at work reprinting and revised old franchises. And now now it's Axis and Allies turn to receive another fresh update.

Avalon Hill's Axis and Allies Anniversary Edition [Amazon, Funagain] is a massive content upgrade to the world war compared to the latest titles which have drilled down to specific theaters and operations. And when we say massive, we mean it - this new installment rivals the "big box" titles coming out of Fantasy Flight Games with over 600 pieces in tow.
Major upgrades include a new 2'x4' board - the biggest yet in an A&A; game - and the Cruiser unit pulled from the Axis & Allies Guadalcanal edition. Two new factions have also appeared - Italy joins the Axis nations, and China becomes its own faction under USA control. Now, these countries have always been a part of A&A; as territories under control of German and USA, respectively, but from what we understand these minor powers will be far more fleshed out and involved in the fight the Anniversary Edition. We hope that Japan gets a nice bump in tucus in its starting forces to compensate.
For more information checkout Axis&Allies.org;'s coverage of the details, or checkout the official Axis and Allies Anniversary Edition website.
Here are the official details:
---

Axis & Allies celebrates 50 years of Avalon Hill games with this Anniversary Edition of the classic World War II strategy board game. Designed by Larry Harris, A&A; Anniversary Edition will utilize the standard D6 combat system found in Axis & Allies Revised, Europe, & Pacific. Italy will debut as the third Axis nation, China will be operated by the US player, and cruiser class ships will join the naval line-up for the first time. The largest board ever produced for an A&A; game, along with deluxe components will ensure this is the granddaddy of all Axis & Allies board games. Deploy your forces and prepare for battle!

Axis & Allies: Anniversary Edition details:

Designed by Larry Harris, creator of Axis & Allies
Italy introduced as the third Axis nation
Two set-up options: Spring 1941 and Spring 1942
Cruiser class ships join the naval unit line-up
China included as US controlled ally
New sculpts for Italy, China, and others
Game board measures ~ 24" x 46"
Over 600 game pieces
48 page rulebook

"

---
Read More in: Board Games | Gaming News
Share this Article with others:

Related Articles:
Came straight to this page? Visit Critical Gamers for all the latest news.
Posted by Critical Gamers Staff at July 29, 2008 3:56 PM