Battlestar Galactica Exodus Expansion Details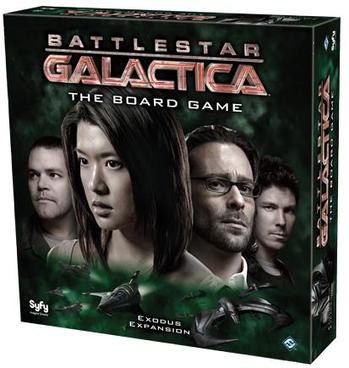 We have to admit that the Battlestar Galactica board game is already a pretty complex title. Thankfully playing through this complexity unfolds a very unique and amazing experience unparalleled in any game since. Mistrust seethes and yet you must work against potential unknown betrayals to keep you and your fellow compatriots aboard the Galactica alive long enough to reach Kobol intact. It's no easy task.
The Pegasus Expansion layered even more complexity on to the game. While it included some interesting Cylon leader mechanics, everything else about the game was just.. overly complex. Specifically the mechanics tacked onto the end of the game where players had to fight to survive Cylon occupation in New Caprica. We played it once and said 'Thanks, but no thanks' to that.
So we look at Exodus with somewhat reserved eyes. We'll doubt any mechanic that tacks on additional states of the journey. Meanwhile the mechanics that will fold into the original system relatively seamlessly are welcome with open eyes.
Thankfully it looks like that's what we're seeing. While we have the obvious new hero cards and new events coming our way, which will be nice, but that's just fillers. We're actually looking forward to two new mechanics.
First are the new loyalty cards as detailed in the preview article "You Can't Handle the Truth". Humans remain loyal humans, but now they're given potential sub plots and goals to strive for. Usually it's a determent to the group to fulfill these goals, so someone perusing the goal may seem to be doing suspicious things and thus breeding even more mistrust than before But the penalties for not fulfilling the goal can be catastrophic for the journey as a whole. Even worse, some of these cards essentially explode in a goo of crap if someone draws it from your hand to check loyalty so you'll really have to walk a fine line.
And the second mechanic is a welcome change to the combat system. Now the cylon fleet doesn't trickle in, but amasses ships on a seperate game board. Once triggered, the entire fleet pounces on the Galactica. Combat was ok before, but more of a distraction. Now it takes center stage. Morever, revealed cylons will be control of the fleet from their new cylon fleet agme board. Stepping any certain areas can cause things to go boom so the human Vipers will need to be on top of the cylon military incursion at all times.
There's a lot going on here including new jump rules and a CAG Officer title that lets the humans focus fire Vipers a lot more easily. Checkout "The Relentless Pursuit" for all the glorious details.
Battlestar Galactica Exodus is due out sometime before Christmas. We'll let you know as soon as it hits shelves.
Read More in: Board Games | Gaming News
Share this Article with others:

Related Articles:
Came straight to this page? Visit Critical Gamers for all the latest news.
Posted by Critical Gamers Staff at December 7, 2010 9:55 AM