Thunderstone: Doomgate Legions Expansion Released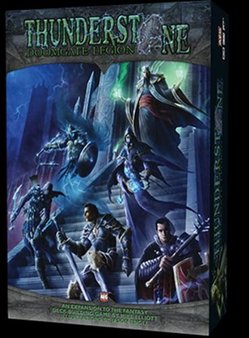 The deck building hit Thunderstone has just received its second treatment. Thunderstone: Doomgate Legions [Amazon, Funagain] adds more monsters, more items and heroes types to the deck building dungeon romp formula. Additionally new treasure card types reward plays for defeating monsters in the dungeon.
Now, while we would like to have a new game mechanics that would spice up the the players' decisions about whether to delve into the dungeon or head into town (it's currently just a math formula of 'can I kill a monster?') , we wouldn't shrug away new variable and intriguing content, either. The theme of this game is still stellar.
Here are the official details:
---

"Hiding away in secret for centuries, the order of the Doomgate Legion have guarded the Stone of Avarice from friend and foe alike. Their cult-like existence known only to a few, the Legionnaires dedicate themselves to the secrecy, protection, and worship of the stone. They are its champions. Its sentinels. Its vanguards.

It is up to you to defeat them.

The second expansion to Thunderstone adds more to the game of "deck-building with a purpose." Doomgate Legions introduces the Cult of the Doomgate, who have guarded the Stone of Avarice for centuries. This cult, along with a sect of evil druids and other all-new monsters await your heroes as they race to secure the third Thunderstone!

Doomgate Legions features two all-new card types: Mercenaries and Treasures! Mercenaries are henchmen for hire in the village who bring all new abilities to the dungeon. Treasures are found after defeating monsters, providing powerful new benefits for your party! Mystic amulets and legendary armor will take your deck to new heights. But beware: the cultists have been at work on strange and horrifying new Diseases that will pose major hurdles for your heroes!

"

---
Read More in: Card Games | Gaming News
Share this Article with others:

Related Articles:
Came straight to this page? Visit Critical Gamers for all the latest news.
Posted by Critical Gamers Staff at December 23, 2010 11:47 AM