Thunderstone: The Next Deckbuilding Game After Dominion
We had a chance to sit down and play a few rounds of Thunderstone [Amazon, Funagain] this week and we were quite impressed.
While not directly linked this new title bases itself on a foundation of Dominion, where you build your deck by buying cards and then snowball those cards into better cards. There are two major differences however. First: instead of picking 10 random cards to place in the 'store', there are a set number of particular types cards that you must have. For instance, there's always four heroes types in the store when you setup the game. While those four types of heroes are randomly picked, you guaranteed that each game will have at least and at most four. This nicely balances out the card population and avoids defense or attack card overdose that's inherent in Dominion.
But more importantly Thunderstone gives you two different options during your turn . Each card has a gold value and you could visit the store in Dominion fashion, playing your hand to buy more cards that fold into your deck. OR... you can use the offensive capabilities of your cards to delve down into a randomly dealt dungeon to kill monsters and collect booty.
Yeah, that's right. Instead of buying Victory Point cards, you can bypass a store on your turn and use your hand to take on beasties in a randomly drawn dungeon. Each evil minion has a victory point associated with them, and each vanquished foe you have in your deck at the end game pushes adds to your victory point total.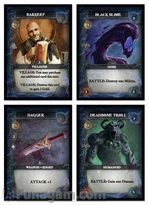 On any given turn the heroes, weapons, and spells that you purchased and folded into your deck could appear in your hand. If you think they've granted you enough strength to take on one of the beasties in the dungeon then you can try your hand in some really quick and simple combat Or, if you think that zombie with the Burt Reynolds moustache might be too much for you to handle, then you instead head to the store and use the coin value of your hand to buy new cards at the store. It's all up to you!
Thunderstone is definitely a step up from Dominion on both the complexity scale and the dork scale. While Dominion remains the new gateway game of choice - highly approachable and downright fun - Thunderstone kicks it up a notch. While the RPG narrative of the game is something our group truly likes, it might not be very interesting to all.
We think it's a sweet move, however. The theme is so much stronger than Dominion and the game hits just the right level of complexity to keep things interesting. Games last longer, are balanced better, and no two games are alike. There are expansions already announced, too, so as we play this where smiling knowing the franchise is going somewhere cool.
For a more in depth review, check out the Thunderstone review by The Dice Tower. Here are the official details:
"For ages the vile Doom Knights have sought to gather the remaining Thunderstones to fulfill a prophecy of corruption over the lands. Now the first Thunderstone has been discovered in the Dungeons of Grimhold and the Doom Knights have sent their minions to claim the relic. The Villagers of Barrowsdale gather brave souls to face the dungeon and keep the Thunderstone out of the hands of the Doom Knights.

Thunderstone is a new and exciting fantasy deck-building game from Alderac Entertainment Group. Fight the evils of the dungeon to prove your worth. Gain powerful weaponry and level into new and mighty hero classes. Claim the best cards and survive to take the Thunderstone. Featuring beautiful art from Jason Engle, Thunderstone is a welcome addition to any fantasy gamer's collection."
Read More in: Card Games | Gaming News
Share this Article with others:

Related Articles:
Came straight to this page? Visit Critical Gamers for all the latest news.
Posted by Critical Gamers Staff at February 3, 2010 9:05 PM