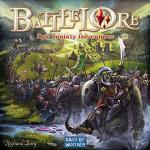 Patrick Korner of Boardgame News has posted a lengthy article detailing the design history of BattleLore [Funagain], and his reflections on a talk he had with Days of Wonder Big-Wig Eric Hatuemont. The discussion (which isn't quoted verbatim) was about the company's line of high-quality games in general, and about the emergence of Battlelore's design out of the lessons learned from the WWII war game
Memoir '44 [Amazon,Funagain] specifically.
This is a pretty beefy article. If you're haven't been sold on the upcoming Battlelore wargame system then the article probably won't win you over. Instead you should checkout some of our previous coverage such as "Battlelore Primer" and "Days of Wonder Announces 'Battlelore'".
But for those of you who've already swallowed the Battlelore punch then this article is a great read. It reassures us that Battlore isn't going to be a flash in the pan game release, but an entire system poised to be something big - something that could have a huge impact on the entire gaming market.
Here's one of our favorite bits:
"So what kind of expansions will we see? Well, the simple answer is: All kinds. Eric indicated that it's true, gamers will be able to buy a ton of stuff, but all of it is focused on player development, not army escalation. In other words, the expansions are intended to allow players to play the game differently or with new goals, and the plan is to provide a lot of company support for player input. One example of this is the online scenario editor, which is being made freely available to the online community and will be heavily supported. DoW is hoping that some players will adopt the game the way that some have adopted Memoir '44, and want to do what they can to ensure that these creative individuals have all the tools they need to produce new and unexpected gaming experiences." -From "Patrick Korner: BattleLore Discussion with Eric Hautemont (DoW)"
Awesome - sounds like it's be like approachable and expandable but yet not entirely complicated like the money-sink Warhammer franchise. Even better, those colorful banners mean we won't have to paint any models. Thank you Days of Wonder! - we're not quite willing to take that giant step down Obsessive Lane in our gaming lives.
The release of Battlelore is rumored to be somewhere on the cusp of November and December 2006, just in time for the Holidays. Battlelore is currently available to preorder at Funagain Games.
Critical Gamers Staff at
Permalink