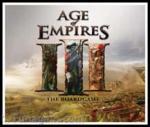 When Eagle Games closed its doors last year there were concerns that this aesthetically gorgeous game wouldn't ever see the light of day (back then we didn't know anything about the rules, so AoE3 was pure eye candy at that point). But then Tropical Games picked up the slack, and here we are, nearly a year later, staring at the release version of Age of Empires 3: The Age of Discovery [Amazon,Funagain]
The game centers around the colonization of the Americas, where players build colonial infrastructure and send specialists into new terrain to claim land and resources in their country's name. The buildings help supply the players with new explorers, workers, etc, with players scoring points based on the territorial control of their colonists at three different points in the game. The game doesn't simulate any wars that eventually erupted out of historic conflicts of interest, but that doesn't mean that players can't angrily their shake fists at one other, or smack opponents across the face with a prized New England Cod (cod not included).
If you're looking to do some more research about the game before you buy, then checkout this good user review at BGG which is at last somewhat critical of the game. Maybe not critical enough, but hey – the game scored very well in numerous play tests so maybe a ton of critiques aren't necessary.
Continue on for a nice shot of the gorgeous board (click-it to expand), and the official company information about the title:

Continue reading:
"Age of Empires III Released"
Critical Gamers Staff at
Permalink