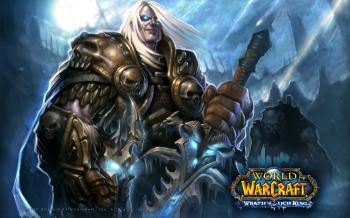 The World of Warcraft Trading Card Game has been our TCG of choice for two years now. Even so, there are been points where we feared the game's stagnation, but just as those fears became frustrations, Upper Deck injected something new to not only hold our attention, but excite us to boot.
Now they just dropped a whopper. We had already begun questioning why the Death Knight - a class introduced to World of Warcraft via the Wrath of the Lich King expansion of the MMORPG - hadn't arrived in the WoW TCG. Well now have to wait just two short months before we get our grubby hands on them.
In the final part of "Caverns of Time - Our History Thusfar" - a WoW TCG and WoW Mini restrospective and state of the union - Upper Deck has announced that a the new Death Knight class will be introduced in the next WoW TCG set this June. Here's the snippet containing the details near the end of the article:
---
"Even with nearly three full years of sets and products in the books for the World of Warcraft games, the games show no signs of stagnation or slowing down. Wrath of the Lich King's release shattered record books for Blizzard Entertainment and video gaming as a whole, much due to the introduction of the incredible Death Knight class. From the corpses of those slain by the Forsaken, the Death Knights in the TCG will be released this June. The plate-wearing, disease-spreading hybrid class will be the tenth class in both the Minis and TCG games. Plus, as always, we have infinite more loots to slip into packs of our WoW Minis and WoW TCG product. Who knows what items will be available in the future? All I know is that our WoW MMO characters want them ASAP!"
---
Critical Gamers Staff at
Permalink