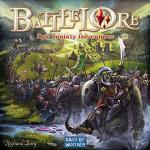 It seems that the BattleLore board game system designers at Days of Wonder have recently come under a bit of fire about the game's seemingly shallow and stagnant setting since its release six months ago, and the lack of PR communication about where the BattleLore system is headed. People have also been stamping their feet, comparing the BattleLore [Funagain,Amazon] system to the very robust and installed Warhammer Franchise which has more than enough content to go around.
The designers have responded with a post "The Long View" on the BattleLore official blog. In it they cite numerous projects they're working which should flesh out a lot of the core system, with the goal of installing a larger source base before branching the system with some mondo-sized expansions. They also list the releases slated for release this year, which includes: the soon to be released Call To Arms expansion; a print version of Epic BattleLore, which provides rules for players to combine multiple sets of BattleLore to form huge multiplayer battles; and the mid summer release of the Specialist Packs which will introduce new units to the game. The designers also note that the online scenario editor is up and running, which should serve as an outlet for those who want to work their creative side.
Also upcoming are newly announced Hero characters. Currently the details are somewhat lacking, but it seems like the designers will use Heroes as a tool to add a stronger narrative to each of the battles.

Continue reading:
"Where is BattleLore Heading?"
Critical Gamers Staff at
Permalink